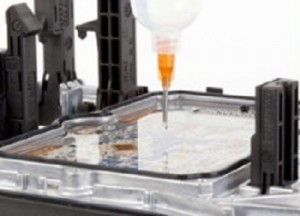 Munich, April 10, 2013 – PLASTIC Japan will see WACKER, a Munich-based chemical company, and Japanese silicone manufacturer Wacker Asahikasei Silicone unveiling innovative silicone products for the electronics, optoelectronics and medical-technology sectors. Among the products celebrating their premieres will be SEMICOSIL® 915 HT, a heat-resistant gel for encapsulating power electronic modules; LUMISIL® 868 S, an encapsulant for LED chips that prevents sedimentation of luminescent dyes; and LUMISIL® 885, a silicone rubber for producing optical lenses. Further product highlights will be SILPURAN® 2410 silicone rubber for orthopedic applications, and SILPURAN® 6610/40 liquid silicone rubber for radiation-sterilizable valves used in medical technology. PLASTIC Japan will be held in Tokyo from April 10 to 12.
Products to be presented by WACKER at PLASTIC Japan include a further development of its successful SEMICOSIL® silicones, which have served as electronics encapsulants for many years. SEMICOSIL® 915 HT, which is premiering in Tokyo, is a silicone gel that is characterized by extreme heat resistance after curing. This is evidenced by the fact that the mechanical properties of the cured rubber remains stable even after 2,000 hours' exposure to 210 degrees Celsius. The gel is therefore ideal for encapsulating power electronic modules. When regulating high electrical power, these modules can become so hot that conventional silicone gels fail.
The new gel is a two-component, addition-curing product. It is typically used to encapsulate power electronic modules employed in energy technology, high-speed trains and industrial plant. SEMICOSIL® 915 HT acts as a safeguard for manufacturers of power electronic modules against more exacting demands that will arise in the future, because the extremely heat-resistant encapsulant has the capacity to cope with much higher power densities than before.
LUMISIL® 868 S: a Specialty Silicone for Encapsulating LEDs
WACKER will also be demonstrating LUMISIL® 868 S, a transparent specialty silicone for encapsulating light emitting diodes (LED). This two-component, addition-curing product, which has a pot-life of 24 hours after the components have been mixed, prevents luminescent dyes from settling in the liquid encapsulant. The material adheres to conventional reflector substrates, without their having to be pretreated. The encapsulant can be applied by either dispensing or jet methods.
LUMISIL® 868 S is designed for mass production of LEDs in which the purpose of the encapsulant is not only to protect the sensitive chip, but also to selectively influence the color of the emitted light. The LED maker simply mixes the luminescent dyes into the liquid silicone to produce emitted light with the desired spectral distribution – this is the process used to make LEDs that generate white light. With LUMISIL® 868 S, manufacturers can be assured that the quality of the LED light remains constant.
LUMISIL® 885: Lens Material for High Luminous Efficacy
A further product highlight is LUMISIL® 885. This is a new, addition-curing silicone rubber of medium viscosity that cures to yield a very transparent, high-Shore elastomer that confers high luminous efficacy in optical applications. The two-component product is ideal for transfer molding, but can also be compression molded. This versatility makes production of LED lenses and other optical components more cost effective.
SILPURAN® 2410: a Variable-Hardness Silicone for Orthopedics
WACKER will also be presenting new silicones for medical technology applications at PLASTIC Japan. SILPURAN® 2410, for example, is an addition-curing silicone rubber that specifically addresses the needs of the orthopedics industry. The hardness of the cured rubber is determined by the ratio in which the two components are mixed. Consequently, it can be varied from application to application. This means that silicone processors can meet different product specifications with just a single silicone rubber compound.
SILPURAN® 2410 is pourable and thus ideal for manual and semi-automated processes.
This silicone cures rapidly at elevated temperatures to yield a highly flexible, translucent elastomer. This is breathable, compatible with the skin and has a low order of toxicity. It possesses good damping properties and exerts a soft and gentle compressive effect. Candidate applications range from shoe insoles and heel cushions to truss pads, orthotic devices and liners for prostheses.
SILPURAN® 6610/40: a Silicone for Radiation-Sterilizable Valves
The spotlight will also be on SILPURAN® 6610/40, a liquid silicone rubber. This silicone can be used to injection mold biocompatible slit valves whose openings will not close over during radiation sterilization. In contrast to conventional silicone rubber compounds, valve production with SILPURAN® 6610/40 does not require additional auxiliaries for preventing the slits from closing over. As a result, there is less risk of contamination and valve production is simplified. SILPURAN® 6610/40 facilitates rapid, clean and cost-effective mass production.
More Information: www.wacker.com