Product quality, productivity and design benefits  "Green and Clean" with extrusion blow moulding
Berlin, 8th of April 2014 – The BEKUM group is one of the world's leading producers of blow moulding equipment for plastic container packaging worldwide. At Interpack 2014, BEKUM is presenting its extensive range of blow moulding machines.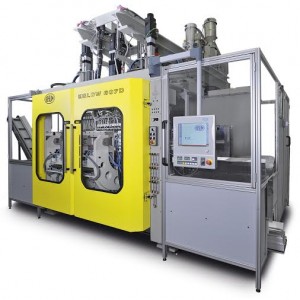 The centrepiece of Interpack 2014 is the fully-electric EBLOW machine generation. The electric drive concept is very popular with manufacturers of plastic packaging due to its efficiency. In addition to the clear benefits of the machine technology, extrusion blow moulding also meets the current trends in the packaging sector. These include greater demands on design, extended service life, as well as rising demands for turnkey systems and resource conservation as part of the expanding sustainability goals of manufacturers.
Small blow moulding machines  produce millions of plastic packages very economically
Plastic packaging and containers can be economically produced on the single- and double-station blow moulding machines of the electric EBLOW and hydraulic HYBLOW series from BEKUM. Bottles and containers with capacities of between 3 ml and 20 litres can be manufactured, depending on the machine type. This makes an output rate of more than 100 million containers possible per year, depending on the size. Modern production technologies, such as the "tandem blow" method, which enables simultaneous blowing from top and bottom from one extruding parison, are ideal for producing packaging of up to 330 ml at very high volumes, such as for drinkable yoghurt and Actimel® bottles.
The "tandem blow" method not only enables 100% higher output compared with conventional production processes, it can also reduce the weight of the bottles by optimising the production of the system technology from Berlin. This results in substantial savings on material compared to the usual standard market weights. This is an impressive contribution toward conserving resources and improving sustainable production of hollow packaging.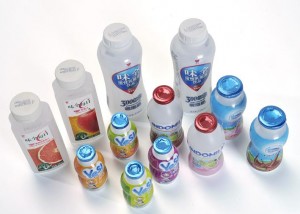 The significance of "individualised packaging" grows
The extrusion blow moulding method is proving increasingly popular with packaging processors due to its "geometric product versatility", compared with stretch-blown products, for example. This design is beneficial in the retail pharmacy or food sectors as an option for getting certain packaging models onto the shelf very quickly. "Blow moulding also offers a degree of freedom or versatility for when packaging needs to be presented attractively on the shelf to promote sales" states Andreas Kandt, CEO of BEKUM.
Coextrusion technology gains importance for packaging
Packaging with built-in protective barriers, which are intended to prevent diffusion from the outside to the inside or vice-versa, can be produced with coextrusion technology. Food or pharmaceutical products need to be protected from oxidative reactions as much as possible. This means that the higher the quality of the packaging equipped with barrier technology, the longer the shelf life will be. A long shelf life (use by date) is a good selling point for consumers, as it facilitates stocking and tends to reduce the waste rates for food in retail and for the end users. With Bekum, this logic can be applied to food or retail pharmacy packaging, but especially to pharmaceutical packaging. "If valuable contents need to be protected, coextrusion blow molding technology offers many options, which "traditional" packaging is not able to provide", adds Andreas Kandt.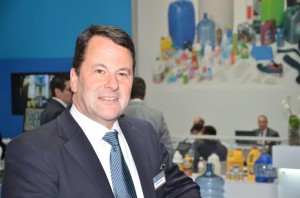 "Green and Clean" in everyday production
The spiral distributor extrusion heads from BEKUM are especially suited to coextrusion technology. They provide an excellent, even parison wall thickness distribution, which opens up significant potential for the processor for optimising the parison quality and the neck finish.
The combination of great precision and high structural rigidity in the EBLOW series ensures improved product quality and process reliability, as well as energy and material efficiency. This results in a whole host of relevant benefits in terms of efficiency in everyday processing production. Thus, the high precision of the calibration, coupled with the effective support of the mould carrier in the C-frame, ensure that the quality of the mould parting line is consistently high, especially in the critical neck area, even after many hours of operation. The machine is highly resistant to wear: the service life is significantly increased by the balanced, even load.
BEKUM Maschinenfabriken GmbH
Marketing Communication
Christian Richard
Lankwitzer Strasse 14-15
D-12107 Berlin, Germany
Tel.: +49 (0) 30 7490-0
Fax: +49 (0) 30 7490-2441
mailto:[email protected]