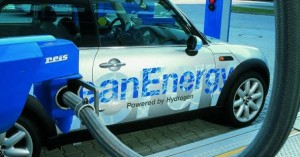 Green mobility technologies could save approximately 380,000 tons of fuel consumption and reduce CO2 emissions by 1.26 million tons in Shanghai by 2020, according to a study by China Automotive Technology and Research Center (CATARC), commissioned by German specialty chemicals company Lanxess.
The saving is equivalent to reducing passenger cars by around 340,000 units. There were nearly 1.95 million passenger cars on Shanghai's road in 2011 and the number is expected to grow by more than 60% to 3.16 million by 2020. The city targets to reduce fuel consumption and CO2 emissions per unit of GDP by 18% and 19% respectively by 2015.
While all four types of innovation could contribute to the sustainable development of the automobile industry, the study finds out green tires and lightweight materials are the most viable. "Green tires feature advantages such as cost efficiency, wide use in all kinds of vehicles as well as application in both new cars and replacement market. Support from government could promote the use of fuel-efficient tires effectively," said Wang Weinan, Head of Intelligence Division of CATARC.
According to industry experts, green tires with lower rolling resistance could save 4% to 6% of fuel consumption without compromising on safety. This makes them an attractive option for any consumer to increase fuel efficiency and save costs. Likewise, it is also attractive for fleet operators. While the European Union, the US, Japan and South Korea already enacted tire labeling systems to promote the use of green tires, China is planning to roll out similar standards.
China's Rubber Industry Association has launched a program which calls for half of China's tire makers to be capable of producing a fuel-efficient tire by 2015, and for 25% of passenger vehicle tire production to be "Green Tires" by the same date. The association will adopt a standard similar to European Union's labeling system, which rated fuel efficiency, wet grip and noise level of tires.
The study by CATARC finds out that lightweight materials could make the biggest contribution in saving fuel and CO2 emissions in Shanghai. In the condition that half cars in Shanghai reduce weight by 10% by 2020, around 159,000 tons of fuel consumption and 524,000 tons of CO2 emissions could be reduced, equivalent to having 143,000 cars on the road.
"Plastics and plastic-metal hybrids are finding increasing use in the automobile industry with applications from under the hood to functional parts such as fastening elements, guides, contact surfaces, engine bearings, door structures, front ends and seat cross-members," added Mr Wang. "High-tech plastics boast many advantages including lower processing costs, exceptional strength and stability. They also bring entirely new construction and design possibilities."