The KraussMaffei Group, incorporating KraussMaffei, KraussMaffei Berstorff and Netstal, revealed its recent expansion in China.
The group has recently expanded its manufacturing facility in Haiyan, Zhejiang. Capacity is basically doubled and the large MX series injection molding machines are starting to be assembled there, mainly serving the Chinese automotive industry.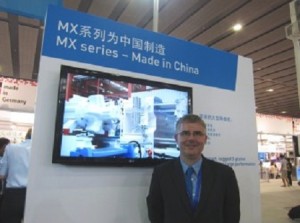 Harald Schweitzer, CEO China of KraussMaffei Group, added that a PET laboratory and training center is also incorporated in the Haiyan site because the company expects a good growth in PET market here.
"I do not believe there is a downturn in China, despite the fact that the growth rate was not as fierce as the previous two years. In fact, our company had a better result in 2012 than in 2011," he said. The company is celebrating its 175 anniversary this year.
For the first time in Asia, KraussMaffei displayed a complete SkinForm production system at CHINAPLAS, which can manufacture components with premium quality polyurethane (PU) surfaces.
"We see several trends in China. First of all, companies are looking for automation technology because of rising labor costs. Then, the automotive industry is trying to upgrade its quality for export. At the same time, manufacturers need efficient and low energy consumption machines to meet stringent production standards. And last but not least, the rise of electric mobility is spurring the growth of lightweight construction," explains Frank Peter, Vice President of Sales, KraussMaffei.
Source: http://www.adsalecprj.com/Publicity/MarketNews/lang-eng/article-67006133/Article.aspx