Italy's PE market saw a round of noteworthy increases for July boosted by the €50/ton rise in ethylene contract settlements in Europe, according to ChemOrbis. Initial hike requests concentrated on €50-80/ton last week while some sellers moderated their initial targets given generally unsupportive demand from converters ahead of summer holidays in August. Nonetheless, the market retains its strength now that more supply constraints have emerged from regional PE producers recently.
PE players have been reporting reduced supplies across the region particularly for HDPE since the second half of June. Both HDPE and LLDPE supplies were reported to be tight last week, while LDPE availability has also been reduced recently, many players confirm.
A distributor reported that he was mainly offering €70/ton increases over June and €50/ton only in a few cases citing his short supplies. A second distributor reported, "We managed to conclude HDPE film and LDPE film deals at our initial July prices, €70-80/ton above last month. In some cases we even achieved higher prices. We still have some stocks but our overall availability is very limited."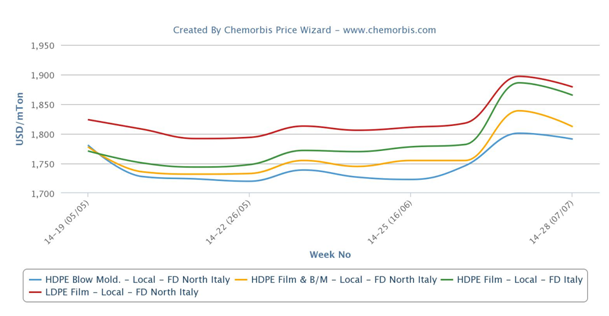 A different distributor reported that he already sold out his West European LDPE cargos last week due to his short supply. "We sold out our HDPE film and LLDPE film supplies since our West European supplier stopped taking orders this month. Plus, we heard that a regional producer shut its PE plant. Nonetheless, demand is not performing strongly despite supply constraints," he highlighted.
Packaging converters in the PE market are not rushing to build up stocks at current higher price levels now that summer holidays are around the corner, as per ChemOrbis." Most sellers have revised down their initial strong hike requests. Overall end product demand is not brilliant and we hope to find lower prices after holidays," said a packaging manufacturer.
Another packaging converter reported that he received €60-70/ton hikes from a South European source while he had no intention of purchasing any volumes this month. A different packager concurred, "We only purchased our basic requirements as it doesn't make sense to build stocks at such prices. We don't expect a strong downturn in August as MDPE and HDPE supplies are really tight. At the same time, we don't plan to buy extra volumes in any case."
A converter reported, "We only purchased a small volume of South European LDPE. A reseller of Middle Eastern LLDPE material told us that they will not have material until the end of July. The PE market saw increases of €70-80/ton with respect to June. However, our end business slowed down a bit."
A stretch film maker refrained from purchasing large volumes given high PE prices. "Our end product demand is rather good but it is too difficult to pass the increases in raw material prices onto end products," he lamented. Two West European producers have already closed their July sales, which might be due to their target to apply additional increases, according to the buyer.
In production news, SABIC declared a force majeure on its LDPE output from its 400,000 tons/year plant in the UK on July 8. The company had shut the plant for a turnaround between May 5-June 22. Dow Europe sold out its July LDPE allocation, according to market sources.