Symphony Environmental Technologies Plc (AIM: SYM), global specialists in "making plastic smarter", is pleased to announce the following activities in the first six months of 2014: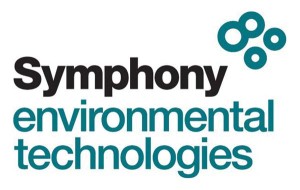 d2w Controlled-life Plastic Technology
Major fertilizer company in Pakistan adopts d2w in all polythene bag liner applications
Entered into a paid-for biodegradable development project with an $80 billion global consumer products corporation on one of their key product lines
Successful completion of first phase PET film development
A number of high quality sales leads are moving towards completion from several market sectors including food, chemical and agricultural
Progress is being made with enforcement in countries that have legislated in favour of d2w type technology
d2p Anti-microbial Plastic Technology
Entered into a development agreement with an $50 billion global polymer corporation
End-users launch new finished products incorporating d2p including air-conditioning pipes and filters, lavatory seats, garbage & clinical waste bags
Achieved first sales in 2 out of 5 of the d2p product lines
Successful trials for post-harvest fruit applications in laboratory tests for rice and cheese packaging applications
Successful tests for foamed mattresses
FDA bread packaging application approval expected by the year- end
FDA food contact approval in place for repeated use treated articles such as chopping boards and containers
Non-food applications approved for use in some EU countries and expected shortly in the USA
d2t Tag and Trace Technologies
The first order has been confirmed for a US user to combine d2t within a chemical formulation in order to monitor the addition rates and to detect counterfeiting. As a result of legislation changes and increase in enforcement activity, new interest and orders for d2detector have been placed.
Interim results
The Company expects to announce its interim results for the six months to 30 June 2014 in September. Revenues are expected to be approximately £3.3 million for the first half with administrative expenses significantly reduced following the cost reductions undertaken during 2013.
Contact:
Max de Trense
Carteret Communications
Tel: 020-7828-8598
M: 07795 204078
Email: [email protected]