A government-backed project aimed at making it easier to sort and separate plastic packaging for recycling, using an 'invisible barcode' made from metal oxides, has been boosted with £772,000 in funding.
Plastic Packaging Recycling using Intelligent Separation technologies for Materials (PRISM) aims to identify new luminescent materials which can be applied, invisibly, to labels on plastic packaging to aid the sorting process in recycling facilities.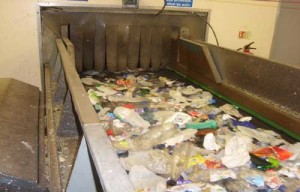 Innovate UK, a government investment programme, is providing a part of the funding over two years alongside the Engineering and Physical Sciences Research Council (EPSRC), matching funding from the commercial partners involved in the project.
Work on PRISM is being led by plastics recycling consultancy Nextek alongside researchers from Brunel University London, equipment manufacturer Tomra Sorting, CCL Label, Mirage Inks, WRAP, Evolve Polymers, Johnson Matthey and Enlightened Lamp Recycling (ELR).
Barcode
Professor Edward Kosior, managing director of Nextek, said: "This could be the equivalent of an invisible barcode for plastics recycling. It is a significant step forward in the sub-categorisation of plastics which are sorted automatically at high speed. It enables new initiatives from brand-owners eager to recover their packaging as part of the circular economy. Of course, it also provides a massive impetus for new businesses in the recycling sector."
According to the project partners PRISM will develop fluorescent materials from metal oxides as well as converting reprocessed powders from recycled fluorescent lamps into suitable fluorescent materials.
The fluorescent label sorting system is designed to be integrated with the current near infra-red (NIR)-based sorting systems used in materials recovery facilities (MRFs). The system would be triggered by an ultraviolet (UV) light source that is detected in the visible spectrum. This is within the capacity of many modern automatic sorting units, Nextek claims.
Sorting
The project partners also claim that should the project prove to be successful, it could allow food-grade polymers to be distinguished from non-food-grade, black plastics to be identified and full-length shrink-sleeves to be tagged according to the underlying plastic. It could also create the possibility for brand owners to establish their own 'closed-loop' collection of specific types of packaging.
This is seen as one of the main barriers to greater reprocessing of PP packaging in particular, as it is difficult for sorting facilities to identify whether material has previously been used to package food – and can therefore be used for food processes again – or has come from a non-food source.
WRAP
WRAP Packaging Programme area manager, Claire Shrewsbury, said: "The new technology could help boost recycling plant yields, and UK plastics recycling as a whole, with more efficient ways of sorting materials such as polypropylene (PP) packaging, high density polyethylene (HDPE) milk bottles and sleeved polyethylene terephthalate (PET)."
The latest stage of the project follows the release of WRAP's study into the feasibility of using machine-readable inks to improve separation of food packaging, in March 2015 (see letsrecycle.com story).
According to WRAP, by using inks with fluorescent pigments on labels that can be detected by sorting machinery, different grades of the same polymer type can be sorted to allow a greater level of sorting to take place.
Website:                                          www.letsrecycle.com