Panaji: The problem of marine pollution by plastics can be resolved through a combination of actions like enforcement of rules, stressing on recycling and finding an alternative to plastics , say experts.
"Resolving the plastic debris problem is important. Solutions to the plastic debris can only be achieved through combination of actions," according to a study by scientists from Goa-based National Institute of Oceanography (NIO).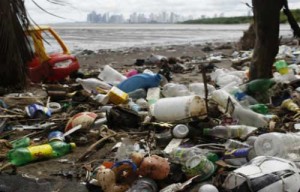 "Such actions include enforcement of legislation against marine pollution by plastics, accentuate recycling , find alternate to the current plastic products and clean-up the existing debris," says a paper presented by NIO scientists during the 5th International Conference on Ecotoxicology and Environmental Sciences held in Kochi last week.
"If marine plastic pollution problem is to be eventually resolved, the government cannot accomplish this task on their own and will need help and initiative from public," the researchers have said.
"Reduce, Reuse and Recycle can help to cut down on the amount of plastic waste we throw away," they opined. The NIO scientists have embarked upon a research related to pollution from micro-plastics, claiming it to be the first such study in the country.
The team comprising scientists like Mahua Saha, S Veerasingham, V Suneel, B G Naik, P Vethamony and Badal Bhattacharya have been sampling the micro-plastics collected from across Goa's coast on different occasions.
"At global scale, high concentrations of micro plastics have been found at five oceanic gyres, but in the coastal environment of India the distribution and fate of micro plastic pollution has not been studied so far," the research paper mentions.
Plastics have become indispensable in many areas of modern life, and used for clothing, storage, transportation, packaging, construction and a host of consumer goods, NIO scientists say.
"One of the plastic's greatest properties is its durability which is also one of the main reasons that it presents a threat to the marine environment," they said.
"Plastics in the marine environment are of increasing concern because of their persistent nature and it is a vector of toxic pollutants like POPs, which affects the oceans, wildlife and specially humans," the research paper reads.
Because of frequent inappropriate waste management practices, or irresponsible human behavior, large masses of plastic items have been released into the environment, and thereby have entered the world's oceans.
"It is widely cited that 80 per cent of marine plastic debris originates from land," say the scientists. They also said that the study on micro-plastics is going to be the first widespread research work to provide the baseline data on detailed source, distribution and impact of micro plastics in the Indian coastal and marine environment.
Website:                                       www.firstpost.com