French textile and rubber company, Joubert Productions, introduces to the market the first snow chains with links made entirely from plastic. This has become possible with Elastollan, the thermoplastic polyurethane (TPU) from BASF.
As introduced, the snow chains made from the two Elastollan grades B90A15 and B60A10WH meet the ÖNORM 5117 standard, which applies across Europe, are suitable for different tire sizes, and easy to fit.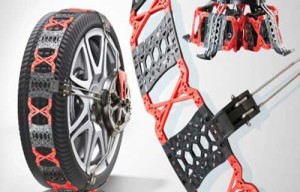 The Elastollan versions are abrasion resistant, flexible at low temperatures, and resistant to loose chippings and road salt. They thus ensure that the snow chains have optimum grip on ice and snow. Besides, as the Elastollan links are much lighter than the conventional metal mesh, the snow chains are easy to handle and quick to remove.
For this new plastic application, Elastollan offers an excellent combination of lightweight construction and serial production: the conventional metal chain mesh is replaced by two Elastollan grades of different colors that chemically adhere to one another in the injection-molding process, and so do not have to be additionally assembled.
The black Elastollan B90A15 with a harder setting displays very good mechanical properties along with great flexibility at low temperatures; the red Elastollan B60A10WH is more flexible and easy flowing. In compact injection molding, the black chain links are overmolded with the red Elastollan in one mold where they join chemically. As TPU adheres to TPU very well, there is no need for another assembly step as is necessary with metal meshes.
Tailor-made quality products are the most important part of our business. BASF not only supported our idea of producing lightweight, easy-to-fit snow chains by providing the right material. What is crucial for us is that BASF has been with us right from the initial idea via finding the appropriate mold through to the finished product, thus enabling us to set up with an optimum production process," says Régis Kaelin, who is responsible for R&D at Joubert.
The Austrian standard ÖNORM 5117 is designed for metallic chain links which cover the full tread of tires and must be in contact with the road surface whatever position the wheel is in.
Website:                           www.adsalecprj.com