Royal DSM, the global Life Sciences and Material Sciences company, says its high-performance polyamides, Stanyl® and Stanyl® ForTii™, have been approved by global producers for use in the next generation of USB Type-C connectors. DSM's materials answer the need for improved levels of safety and reliability. The company highlighted its various solutions for mobile devices at Chinaplas 2015 in Guangzhou on May 20-23.
USB is the industry bus standard used for transferring data and power to and from digital devices. Device charging over USB has become a major consumer feature in recent years. USB is by far the most popular and successful means of connecting peripherals, with some 5 billion ports being produced every year The introduction of the USB Type-C connector is the result of the need to reduce electronic waste. Legislation in Europe, for example, is enforcing the use of a standardized charging interface, so that one charger and its associated cable can be used for multiple devices. As a result, the USB Type-C connector will be obligatory from 2017. Some electronics OEMs, including Apple and Google, have already launched equipment that incorporates Type-C ports.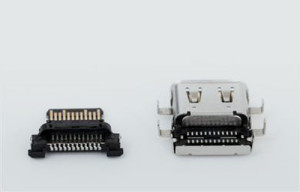 The Type-C connector overcomes an important draw-back that has traditionally been associated with USB. Until now, numerous different types of plugs and sockets have been available, so, for example, charging two different mobile phones often requires two different sets of chargers and cables. In addition, "in" and "out" connectors have different shapes. The new USB type-C standard is the first USB connector with reversible design allowing it to function perfectly whether you plug it in right-side up or upside down, Moreover, with wall thicknesses at only 25% of previous generation connectors, they are much smaller.
With USB Type C connectors being so small, the performance properties of the materials used for their housings are especially critical. Stanyl (polyamide 46) and Stanyl ForTii (polyamide 4T) have high CTI (Comparative Tracking Index) ratings well above 400V, which are a measure of their ability to provide electrical insulation. Alternative materials show a short break during CTI testing, resulting in a serious performance and safety issue for the complete device when in use and exposed to particles, moisture, sweat or other pollution due to electrical tracking. DSM high performance polyamides offer an ideal balance of toughness and stiffness. Furthermore, the flame retardant additive systems that they incorporate to provide a UL 94 V-0 rating contain no halogens.
In addition to ensuring high output rates, the excellent processability of Stanyl and Stanyl ForTii also provides connector designers with flexibility in component structure and tooling design. Stanyl and Stanyl ForTii can be used to produce connectors with wall thicknesses as thin as 0.12 mm and which still have the required high mechanical properties. Their high flow in combination with high weld-line strength ensure the required high pin pull-out strength—the force needed to pull metal contacts out of the housing—parts successfully pass durability tests that involve mating and unmating plugs and sockets more than 10,000 times.
Bright color is becoming more and more popular in electronics devices enabling fancy designs and product differentiation for OEMs, so connector materials also need to be easy to color to the exact shade required by the customer. DSM polyamides are available in a broad color portfolio, and specifiers can make use of the company's color matching service to obtain exactly the color they want.
Further important advantages for DSM high performance polyamides in this application include their ability to withstand the very high temperatures used in lead-free reflow soldering processes used to assemble components on printed circuit boards, as well as their compatibility with ultrasonic welding (used for joining separate connector components together in some designs). They also have very good wear resistance which is essential to meet the high mating/unmating cycles of manufacturers.
Stanyl ForTii and Stanyl are already approved by global producers for the use in USB Type-C, among them Acon based in Taiwan. According to a spokesperson at Acon: "We are getting great performance from DSM materials, and DSM also provides excellent technical support and service, as well as strong application expertise, all of which together have helped us develop and put into production high performance USB Type-C connectors in a very short time. In specific we value the high CTI of DSM materials which allows us to provide OEMs with higher end product safety against potential fire hazards caused by electrical tracking. We have now started mass production and are winning new business from many OEMs."
Website:   www.dsm.com