RadiciGroup, represented by Radici Plastics (Suzhou) Co Ltd, will highlight its Radilon polyamide line with enhanced heat resistance at CHINAPLAS 2014.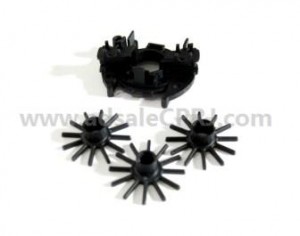 A press conference will be held on April 24. Erico Spini, Marketing and Application Development Director of the RadiciGroup Plastics Business Area, will give a presentation on "Polyamide specialities for the automotive and electrical & electronics industries".
"Over the years our production site in China has grown and changed in order to keep up with the market, we have expanded our product range, invested in R&D and technical support for our Asian customers, and increased our production capacity," says Edi Degasperi, CEO of Radici Plastics (Suzhou) Co Ltd. "We have grown at quite a fast rate on the Chinese market, which has allowed us not only to strengthen our presence in both the electrical & electronics (E&E) and industrial sectors, but also, and most importantly, to develop yet another application market, the automotive industry.
According to Mr Degasperi, the company is planning a new extrusion line by the end of the year to increase its production capacity by about 5,000 tons/year.
One of Radici's highlights at the show is its Radilon HHR (High Heat Resistant) line, which has added a new member, the Radilon XTreme series. The product is developed for hot-air applications at continuous operating temperatures of up to 230°C. Major applications include turbo air ducts, EGR head exchanger components and resonators for the automotive industry as well as high-temperature electrical insulation components and lead-free soldering components for the E&E sector.
According to the company, the melting temperature of Radilon XTreme is 260°C, while its glass transition temperature is 90°C, both of which are 20°C better than PA6.6. In addition, its moisture absorption at saturation is 7%, which compared with PA6.6 is 25°C lower. The viscosity grades are suitable for both injection and blow molding.
As said, the base nylon polymer used to produce these engineering plastics at the RadiciGroup Plastics production sites was developed and produced by Radici Chimica SpA, a RadiciGroup polymerization plant in Novara, Italy.