PEEK magnet wire insulation and PPS coolant line honored for significant performance, production and sustainability benefits
Three e-mobility applications using Solvay specialty polymers are among the winners of The Society of Plastics Engineers (SPE) prestigious Automotive Awards in 2021. First place in the 'New Mobility' category of the Awards went to an injection molded rotor slot liner molded with Xydar® LCP, followed by a second place in the 'Enabler' category for a magnet wire insulation in KetaSpire® PEEK and a third place in the 'Powertrain' category for a coolant line using Ryton® PPS.
"We would like to congratulate our customers who developed and brought these applications to market, demonstrating the overall cost, performance and sustainability benefits that can be derived from our specialty polymers in demanding e-mobility systems and components", says Georges Houtappel, Executive Vice President Transportation at Solvay. "After more than 20 years of enabling the design and manufacturing of high-performance and cost-efficient applications for internal combustion engines, the superior innovation potential of our materials for lightweighting, metal replacement and enhanced sustainability is now also extending to e-mobility applications such as e-motors, batteries and power electronics."
The recognized applications in greater detail:
New Mobility Category Award, 1st Place – Slot liners injected, application developed and molded with Xydar® G930 30% glass fiber reinforced and flame retardant liquid crystal polymer (LCP) by Cobraplast, Italy, for one of Germany's foremost automotive manufacturers. The part is used in the rotor design of an advanced-generation electric drive traction motor where it provides a barrier between the copper windings and the steel lamination of the rotor. In this small but critical application, Xydar® LCP replaces incumbent multi-layer films and provides significant cost and performance advantages. The material combines exceptional flowability to fill 0.65 mm thin sections over a length of 220 mm with zero warpage to meet tight tolerance specifications. In addition, it also ensures high stiffness to prevent breakage during assembly.
Enabler Category Award, 2nd Place – Magnet wire insulation developed by Essex Furukawa company, Germany, using solvent-free KetaSpire® polyetheretherketone (PEEK). Magnet wires coated with KetaSpire® PEEK are highly efficient in increasing power density and torque while reducing the weight and size of electric motors. The specialty polymer offers a thermal performance of 240°C and a dielectric strength of 197 kV/mm in combination with high ductility, stress crack resistance, long-term mechanical strength and outstanding chemical resistance.
Powertrain Category Award, 3rd Place – Cooling lines with coolant tubes extruded in Ryton® polyphenylene sulfide (PPS) XE 3500 (unfilled) and XE 5430 (30% glass-filled), complete with connectors injection molded in Ryton® R4-270 (40% glass-filled). Widely proven for cooling and venting lines in the high-heat environment of downsized internal combustion engines, Ryton® PPS also provides the chemical resistance, mechanical strength and flame retardancy needed for battery cooling lines in electric vehicles. In these applications, the polymer replaces lower performing polyamides as well as metals, which helps OEMs benefit from the lightweighting possibilities with plastics also in chemically and mechanically more demanding fluid handling systems.
E-mobility brings new technical challenges for carmakers in terms of component properties such as thermal conductivity, EMI shielding, CTI and dielectric strength. Solvay is constantly working with leading OEMs and Tiers to develop new specialty polymer grades offering enhanced performance for innovative e-motor, power electronics and battery applications, while helping manufacturers improve their cost balance and lower their carbon footprint.
The winners in the 20th SPE Central Europe Automotive Awards have underscored the vast potential of Solvay's specialty polymers for optimizing the reliability, lifetime, cost efficiency and sustainability of emobility applications. Moreover, the company's PEEK and PPS base polymers production in the United States is using 100% renewable energy.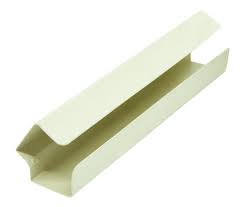 First place in 'New Mobility' category of SPE Central Europe Automotive Awards 2021: Slot liners molded in Xydar® LCP from Solvay for use as a barrier between the conductive windings and the body of electric rotors. The LCP material offers significant total cost and performance advantages to replace incumbent multi-layer films in these applications. (Photo: Solvay, PR009)
Second place in 'Enabler' category of SPE Central Europe Automotive Awards 2021: Magnet wires coated with Solvay's solvent-free KetaSpire® PEEK. The high-performance specialty polymer can dramatically enhance the environmental compatibility in the manufacturing of EV motors. (Photo: Solvay, PR009)
Third place in 'Powertrain' category of SPE Central Europe Automotive Awards 2021: Cooling lines with lightweight extruded coolant tubes and injection molded line connectors in Ryton® PPS from Solvay, replacing lower performing polyamides and metals. The material provides the enhanced thermal, chemical, and flammability performance required for more demanding automotive fluid handling systems. (Photo: Solvay, PR009)
About Solvay
Solvay is a science company whose technologies bring benefits to many aspects of daily life. With more than 23,000 employees in 64 countries, Solvay bonds people, ideas and elements to reinvent progress. The Group seeks to create sustainable shared value for all, notably through its Solvay One Planet roadmap crafted around three pillars: protecting the climate, preserving resources and fostering a better life. The Group's innovative solutions contribute to safer, cleaner, and more sustainable products found in homes, food and consumer goods, planes, cars, batteries, smart devices, health care applications, water and air purification systems. Founded in 1863, Solvay today ranks among the world's top three companies for the vast majority of its activities and delivered net sales of €9 billion in 2020. Solvay is listed on Euronext Brussels and Paris (SOLB). Learn more at www.solvay.com.
About Essex Furukawa
Essex Furukawa Magnet Wire LLC is the leading, global provider of magnet wire that is used by most major OEMs, Tier 1 suppliers, and industry leaders in the automotive, energy, industrial, and commercial & residential sectors. The Atlanta-based company is a global joint venture formed in 2020 between Essex Magnet Wire and Furukawa Electric Co., Ltd., both leaders in magnet wire product development, and custom solutions. The combined entity, relying on the strengths of both Essex Magnet Wire and Furukawa Electric, draws on more than two centuries of combined experience and knowledge to push forward innovation while also remaining focused on delivering manufacturing excellence and outstanding customer service. www.essexfurukawa.com
About Cobraplast
Cobraplast spa, an Italian based special polymers injection molding company, is dealing since over 20 years in application of highly technical and customized compounds dedicated to automotive and industrial components and subsystems, mainly as Tier 1. The strong problem solving attitude has gained to the company a solid reputation as reliable partner for innovative approach to challenging requests in terms of performances of plastic injected parts from first rank customers. Latest achievements are in the field of electrification mobility and eco-friendly solutions. More information and contact coordinates regarding Cobraplast at : www.cobraplast.com
Press contacts Dina Morton +44 (0)7 467 95 32 97 dina.morton@solvay.com Transportation Communications Manager Follow us on Twitter @SolvayGroup