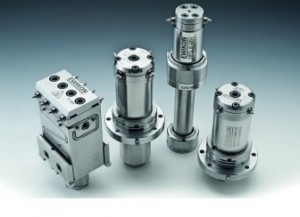 At CHINAPLAS 2013, Ewikon, a hot runner systems and components manufacturer based in Austria, will present the HPS III-MH nozzle suitable for direct side gating of parts as well as for compact valve gating with distances between cavities as close as 6mm.
According to the company, the patent pending Ewikon installation method for the tip inserts allows easy installation and exchange of tip inserts from the parting line of the mold and requires only standard mold inserts. Several tip versions can be selected.Especially advantageous for the production of syringes or pipettes with highest requirements regarding dimensional accuracy is a version with 60° tip angle because it helps to eliminate core deflection caused by the melt pressure, the company explains.
In addition, maintenance during operation is easy as a tip insert exchange is possible with minimum downtime without having to take the mold from the machine. To enable quick color changes, the HPS III-MH nozzle features a streamlined flow channel layout and a melt seal directly at the gate. When processing critical materials, the quick removal of the tip insert enhances the speed of the color change when a physical cleaning of the gate area is required.Apart from the standard version for shot weights up to 10g, Ewikon offers a new version which has been designed for larger shot weights.
Source: http://www.adsalecprj.com/Publicity/MarketNews/lang-eng/article-67004399/Article.aspx