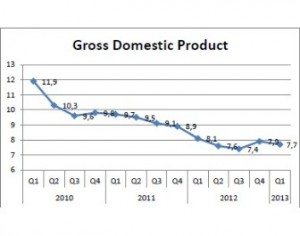 The German Chamber of Commerce in China (AHK) has presented its economic update for the first quarter of 2013, citing that the Chinese economic situation remains stable despite slower than expected GDP growth.
With a GDP growth of 7.7%, the economic development of China in the 1st quarter of 2013 was slightly lower than the anticipated 8% increase. While consumption and investment remain the main growth drivers, the introduction of some restrictive policies targeting the real estate market as well as guidelines to cut lavish government spending has affected economic growth, notes AHK. Some institutions have lowered their growth targets, but the overall economic situation remains stable.
International markets, especially in the US and Europe, continue to be weak and lead to an appreciating RMB value in comparison to other major currencies. This has put Chinese exporters under pressure but nonetheless overall exports were able to increase by 18.4% while trade with ASEAN countries increased by over 15%. At the same time imports performed considerably more weakly.
However, AHK says Chinese trade statistics have been increasingly questioned, as they do not add up to corresponding data from its trading partners.The geopolitical tensions with Japan and North Korea, as well as the effects of the avian flu (H7N9) create uncertainty in the Chinese market and pose a threat to the economic development. For the second quarter of 2013 growth is expected to remain robust and accelerate slowly while the inflationary pressure is likely to increase modestly, predicts AHK.
Source: http://www.adsalecprj.com/Publicity/MarketNews/lang-eng/article-67004446/Article.aspx