Assocomaplast, the Italian Plastics and Rubber Processing Machinery and Molds Manufacturers' Association, said exports continued to grow towards the end of 2014, sustaining the Italian machinery industry when domestic market showed only timid signs of recovery.
According to ISTAT foreign trade data, although there was an 8% increase in imports, the propensity towards investment by converters remained limited in the final quarter of 2014.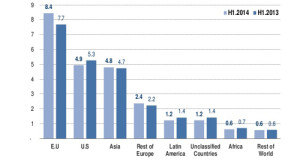 Assocomaplast, according to surveys among its members, estimated a value of production that again topped €4 billion. The trade balance has further increased to more than €2 billion, with the domestic market just under that level.
The most recent survey by the association also highlighted a generally optimistic outlook among approximately one third of the interviewed companies, who expect further increases in orders and turnover in the current half year. A similar percentage also expects the export share to increase.
Regarding the destinations for foreign sales of Italian machinery, a clear and progressive increase is noted within the EU, while the total trade with extra-EU countries has fallen off, dragged down by the negative performance in Russia (-11.9%) partially as a result of the sanctions applied in response to the Ukraine crisis and the collapse of the ruble.
Shipments to the US boosted by 21.5% compared with 2013, thanks to the North America Free Trade Agreement (NAFTA), becoming the second largest destination markets of Italy's plastics and rubber machinery ahead of France, which recorded a drop of 10.4%.
Germany, in keeping with established trend, remained in first place by a large margin.
The lackluster trend in sales to Brazil (-11% with respect to 2013) conditioned the overall performance in South America, said Assocomaplast.
In Asia, there was a significant growing demand from China, Vietnam, Indonesia and India, compensating a slow-down to South Korea, Japan and Thailand.
In terms of machinery exports, there were strong performance in blow molding machines and flexographic printing machines, up 11.6% and 11.1% respectively. The export value of extruders remained essentially stable with respect to the previous year while injection molding machines showed a clear downturn (-16%).
The molds sector continued to perform well especially injection types, representing over 28% of total exports for the Italian plastics and rubber machinery industry.
Website:  www.adsalecprj.com