Players in major Asian markets such as China, India and Southeast Asia report that they are receiving lower PVC prices for November as per the pricing service of ChemOrbis. Players attributed the downward movement in prices to stagnant demand at the start of the winter slow season along with sufficient supply levels in the region.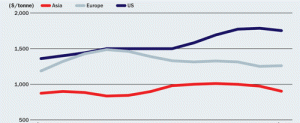 Earlier in the week, a trader based in Taiwan reported that a major Taiwanese producer announced their November prices with $40/ton reductions to key Asian markets. "We are struggling to conclude deals and some of our customers in India have placed bids with additional price cuts of $40/ton," the trader commented. A PVC film manufacturer in China said that they are planning to purchase some Taiwanese material at their supplier's new prices.
"We plan to secure some cargoes to maintain good relations with our supplier, but we believe that our supplier's new prices are too high and we are hopeful that they will agree to discounts after negotiations," the converter stated. A trader based in Shanghai said that they purchased some material at the Taiwanese producer's new prices while adding that they only bought a small quantity of material to do some back to back business.
Elsewhere, an Indonesian producer lowered their offers on a CIF SEA basis by $20-30/ton from October. "Supply levels are increasing while demand remains stagnant," a producer source commented. A South Korean producer expressed their November sell ideas with $40/ton decreases, adding that they believe that they may have to give further reductions of around $20/ton before concluding deals. "A few of our customers should place orders soon as they have been out of the market for some time, but we are not generally optimistic about demand as most converters claim to be covered," a producer source commented.
A PVC compounder based in Malaysia said that they placed their bids at levels $20-30/ton below the offers they received for Thai origins. "We have enough material in stock to cover our needs for the next two to three weeks and we plan to delay our next purchases until prices move down," the compounder said.
According to ChemOrbis, players in India also reported seeing lower PVC prices for November. A calendaring manufacturer reported receiving a lower offer for Taiwanese PVC while adding that they are planning to wait to purchase as they do not believe that prices have reached the bottom yet.
A trader based in India stated that they are offering American PVC at what they consider to be a competitive price. However, the trader complained that other sellers are giving even lower offers for American PVC and that this has pushed buyers to the sidelines. Another trader offering Taiwanese PVC with a $40/ton reduction commented, "We think that we will need to agree to additional reductions to make sales. The monsoon season was longer than usual this year, which hurt demand. In addition, American PVC is available at competitive prices and this is pressuring offers for Asian origins."