SYMPHONY SCORES AT K-SHOW WITH RECORD ATTENDANCE AT STAND AND RECORD VALUE OF ORDERS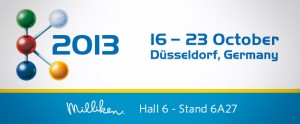 This year's K-Show proved to be the best so far for Symphony Environmental Technologies, with a record attendance at its stand and a record value of orders placed. The K-Show in Dusseldorf is Europe's largest exhibition for the plastics industry, attracting customers and suppliers from all over the world.
Said Symphony's CEO, Michael Laurier, who was present throughout the event "There was exceptional demand for d2w – our well-established oxo-biodegradable masterbatch, as the best and least expensive option for biodegradation of plastics. It turns plastic into a biodegradable material at the end of its useful life.
Great interest was also shown in our new d2p range of anti-fungal and anti-microbial plastics, and our d2t range of anti-counterfeiting technologies."
"More than 600 requests for further information were recorded by Symphony's staff, from end users, processors and raw material producers."
Visits to the stand were made by many members of the Oxo-biodegradable Plastics Association and by Symphony's Distributors from around the world. Many plastics recyclers also visited for confirmation of the compatibility of d2w with post-consumer plastics recycling.Symphony was the only publicly quoted company at the K-show dedicated to oxo-biodegradable, anti-microbial and anti-counterfeiting products for the plastics industry.For further information, go to:www.symphonyenvironmental.com