Components save material, reduce cycle time and help prevent runner hang-ups
Madison Heights, Mich. — Moldmakers now have greater flexibility in their mold designs with the addition of two larger sizes to DME's 3-plate extension bushings product line.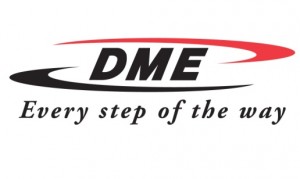 The two new sizes are available with machine nozzle spherical radii of ½-inch and ¾-inch, and offer a larger nozzle clearance of 3.765 inches. DME's 3-plate extension bushings reduce sprue length to save material, reduce cycle time and help prevent runner hang-ups in 3-plate molds by aiding in the ejection of the runner from the mold.
DME's extension bushings also offer an easier, faster installation than competitive bushings, saving customers valuable time and labor costs. Additionally, all grinding for final fit is on flat surfaces with no I.D. or O.D. angles to grind, further saving time.
"We've expanded this product line to help more moldmakers save time and money," said Bob Starr, director of marketing. "Customers can continue to look to us to help them enhance their processes and remain competitive in a challenging global marketplace."
The entire 3-plate extension bushings product line is precision manufactured and made for a wide range of exacting applications. They're made from AISI 4140 steel and hardened to 28-32 HRC.
About DME Company
DME Company is an essential mold technologies resource to customers worldwide. Through aggressive new product development, global product standardization and a powerful combination of in-house manufacturing centers of excellence and strategic global partnerships, DME is helping customers succeed in changing times. The company's standard-setting, comprehensive product line — including hot runner systems; control systems; mold bases and components and mold making and molding supplies — is backed by expert technical service every step of the way. DME also manufactures and sells standard tooling for the die-casting industry. Visit www.dme.net for more information.