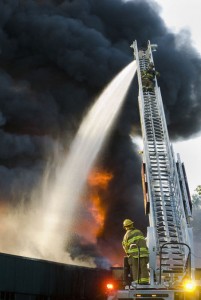 A two-alarm fire in Mississauga caused large clouds of black smoke Saturday, as authorities asked residents to close their doors and windows.
Fire crews were called to plastics company Kal-Trading Inc. on Wolfedale Rd. near Central Pkwy. W. around 10 a.m.
The building was quickly evacuated and there were no injuries, according to EMS officials.
Police haven't determined a cause but reported that both plastics and industrial rubber were burning. They asked area residents to shut their doors and windows as a hazardous materials team evaluated air quality.
"I just went outside for a minute, and my hair, everything smells," said Pina Rocha, an employee of nearby Cooksville Lumber.
Police evacuated workers at nearby businesses, including employees at B & G Auto Collision Centre. One worker, Bob Budwal, said he was sent home for safety reasons.
Source : thestar.com