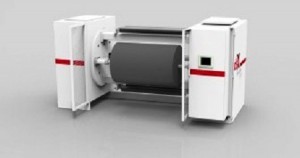 Davis-Standard will use CHINAPLAS as a platform to reveal the new dsX flex-pack extrusion coating line, developed specifically for flexible packaging business.
The system contains a flexible packaging unwinder with phantom axis turret that allows for lower loading position while maintaining 1000mm roll capacity, a combined corona treater and pull roll for tension isolation, a two-roll direct gravure coater/dryer system, a three-roller design extrusion laminator, and a driven pull roller with nip to provides tension isolation prior to the winder. All drives, controls and touchscreen are in one panel.
Advantages of the dsX flex-pack includes reduced variability for consistently high-quality products; greater uptime and productivity which allows customers to meet market demands; reduced waste and production costs; and application versatility that enable customers to develop new business opportunities. Davis-Standard's proven reliability in this new technology translates into greater uptime and higher profits, the US machinery supplier says.
Source :http://www.adsalecprj.com/Publicity/MarketNews/lang-eng/article-67003986/Article.aspx