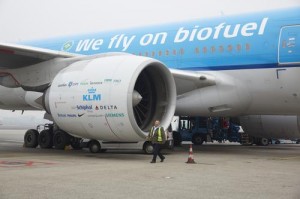 Although many of the biofuels we report on in Design News are crop-based or derived from biomass such as plant wastes, we've also told you about biofuels derived from used cooking oil. Now, a weekly commercial transatlantic flight has begun with jets that run on the stuff. On March 8, KLM Royal Dutch Airlines made its first regular jaunt using biofuel derived from recycled cooking oil. The plane, a Boeing 777-200, flew from Amsterdam Airport Schiphol to New York's JFK Airport. The weekly flights on KLM Flight 642 will transport passengers in the opposite direction, from New York to Amsterdam.
The achievement fulfills KLM's goal to use biofuel in 1 percent of its flights by 2015. It also represents the culmination of several years of testing and experimentation, including algae-derived fuel and bio-kerosene. The current jet fuel is a blend of biofuel derived from used cooking oil, which is equivalent to a bio-kerosene, and regular jet fuel, according to a blog on KLM's website. The biofuel content is somewhat less than 50 percent of the blend due to the limitations of supply, but up to 50 percent is allowable.
Last June, KLM Flight 705, KLM's first transatlantic flight on biofuel, carried government delegations on a Boeing 777-200 from Amsterdam to Rio de Janeiro for the United National Conference on Sustainable Development. Like Flight 642, this flight used fuel supplied by SkyNRG, which KLM co-founded in 2009 with Spring Associates and ARGOS (North Sea Petroleum). The fuel, which SkyNRG supplies to 15 carriers throughout the world, is made by US-based Dynamic Fuels.
The biofuel based on used cooking oil is the first to be approved by the Roundtable on Sustainable Biofuels as a 100-percent certified renewable jet fuel. The Roundtable is an international initiative consisting of farmers, governments, and non-governmental organizations interested in promoting sustainable biofuels. It uses third-party certification bodies to guarantee high standards in sustainability and working conditions throughout the biofuel production process.
Last year, KLM formed a partnership with a number of corporations that allows them to fly on flights powered by biofuel for a certain proportion of their total contracted flight volume, or on specific flight routes. The Biofuel Programme is intended to reduce the carbon footprint of the aviation industry and promote further biofuels development. Partners include Heineken, Siemens, Philips, and Nike.
Although from a fuels standpoint this isn't as cutting-edge as the 100-percent non-food jet biofuel we told you about used in a civil jet Canadian flight, it may be potentially farther-reaching. The combination of a major airline, the corporate biofuel program, and the transatlantic commercial flights will go a long way toward raising the visibility of biofuels and the reality of their use, not just their potential.
Source: http://www.designnews.com/author.asp?section_id=1392&doc_id=261688&itc=dn_analysis_element&