After the March PVC business was wrapped up with rollovers to discounts of €10/ton in Italy, European PVC sellers are seeking to recover their margins in April even though the monthly ethylene contracts settled with decreases of €15/ton from March as per the pricing service of ChemOrbis.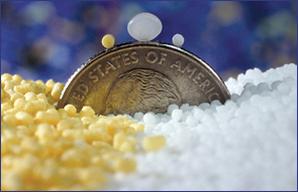 A West European producer kept their PVC prices steady for April after settling their March gentlemen's agreements with rollovers. A source from the producer commented, "Supply is in balance with demand for now while we expect buying interest to improve further this month."
A South European producer started giving April PVC offers with rollovers to discounts of €5/ton and stated that they are not planning to concede to further reductions in order to preserve their margins. A producer source thinks that they may manage to complete their sales in the first half of the month as they anticipate a pick-up in demand despite the upcoming Easter holidays.
A distributor kept his Central European PVC prices steady for April, commenting, "Buyers are aiming for discounts while suppliers are targeting to recover their margins. We are planning to maintain our prices even though April will be a short month in terms of trading activities." An agent of another Central European producer raised their PVC prices by €10/ton from March. The distributor stated that he already noticed an improvement in demand this month and commented that buyers would be away from the market only for a few days during the holidays contrary to the widespread expectations of short working days during April.
Despite the firmer stance on the sellers' side, buyers are voicing their buy ideas for March gentlemen's agreements with decreases of up to €10/ton and they expect to obtain additional discounts of €10/ton in April, pointing to the ethylene contracts which settled with decreases two months in a row.
According to ChemOrbis, in Northwest Europe, March gentlemen's agreements were settled with rollovers or decreases of €10/ton. Buyers confirmed seeing a slight improvement in their end product demand in March, but commented that they expect to see mainly rollovers this month, excluding the possibility of increases.