Tokyo, Japan, March, 31, 2014 — The Teijin Group announced today that Toho Tenax Europe GmbH – the Teijin group's core carbon-fibers business – and Teijin Kasei Europe B.V. – the Teijin group's core polycarbonate business – will exhibit high-performance products at Plastics in Automotive Engineering 2014 in Mannheim, Germany.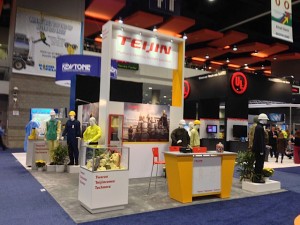 Toho Tenax will present its Tenax® carbon fiber products. They will focus on the technology "Part via Preform" (PvP) which is based on a one-step "bobbin to preform" process. Toho Tenax developed its PvP technology by utilizing Tenax® binder yarn, which combines carbon fibers with binder resin. This yarn allows the automated manufacturing of preforms directly into the three-dimensional geometry of the final component. By combining randomly orientated carbon fibers with unidirectional carbon fibers, preforms achieve a tradeoff between mechanical properties and cost.
Teijin Kasei Europe B.V. will present its Multilon® PC/ABS components and its Panlite® PC resins suitable for automotive applications. Further it spells out its latest plastic glazing technology. It demonstrates the comprehensive process starting with the right raw material selection, followed by choosing a proper moulding- and coating technology. Only the combination of all production steps will end up in a light weight glazing part which can compete with standard glazing.
In Mannheim, on 2nd and 3rd April 2014 about 1400 people will visit the international plastics conference Plastics in Automotive Engineering 2014. In the form of strategic overview lectures from research and the market, topical technical reports from the passenger car and commercial vehicles sectors concerning plastics innovations and practical examples from plastics processing the conference serves as a source of detailed information about the state of the art in plastics technology and automotive applications.
About the Teijin Group
Teijin (TSE: 3401) is a technology-driven global group offering advanced solutions in the areas of sustainable transportation, information and electronics, safety and protection, environment and energy, and healthcare. Its main fields of operation are high-performance fibers such as aramid, carbon fibers & composites, healthcare, films, resin & plastic processing, polyester fibers, products converting and IT. The group has some 150 companies and around 17,000 employees spread out over 20 countries worldwide. It posted consolidated sales of JPY 745.7 billion (USD 7.4 billion) and total assets of JPY 762.4 billion (USD 7.6 billion) in the fiscal year ending March 31, 2013. Please visit www.teijin.com.