Rott am Inn, 31.03.2014.  Cheese processing with maximum precision and efficiency: True to the motto "Milk in Shape," ALPMA Alpenland Maschinenbau GmbH presents the comprehensive portfolio of its Process, Cheese Production, Cutting and Packaging Technology divisions at the Interpack 2014 from 8th – 14th May.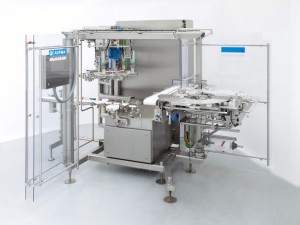 At booth C15 in Hall 14, ALPMA will once again focus on solutions which offer not only added flexibility and easy handling, but above all improved product quality and optimised production costs: In addition to the CUT 32 high-performance cutting machine and the FAP film debagging machine, the company will also be presenting the MultiSAN packaging machine and its versatile Mini-Bassine System – new at the Interpack. At the CreamoProt Bar, visitors will be able to sample whey drinks and a variety of cheese products with CreamoProt.
Mid-May, all eyes will once again be focused on the Interpack fair in Düsseldorf. ALPMA will be participating true to the motto "Milk in Shape", and at its booth (Hall 14 / C15), which has an area of around 250 square metres, will offer visitors a comprehensive insight into the latest developments in Process, Cheese Production, Cutting and Packaging Technology. "As a global market leader, the Interpack is a real highlight in our business year and offers us an ideal opportunity to meet our customers from all over the globe and to present our latest developments," states Gisbert Strohn, Managing Director of ALPMA.
"And we have a special offering this year: We will be exhibiting machines covering the whole cheese production chain, and experts from all business divisions will be present." At the Interpack, the focus is entirely on solutions with flexible handling and improvements in the areas of hygiene and maintenance that not only guarantee food producers top product quality but also help them to optimise production costs.
CUT 32: every cut is perfect
This is largely achieved – for example in the case of portion cutting machine CUT 32 – through a combination of state-of-the-art measuring technology and the realisation of high-precision, ultra-hygienic machines with servo control and inspection systems. As a result, the CUT 32 delivers reproducible results for the cutting of cheese portions of precisely the same weight. In combination with the DS 32 density scanner, it also masters the most challenging tasks, such as cutting fixed-weight portions of large-holed Emmentaler/Swiss cheese. The DS 32 scans the cheese blocks which are to be cut into portions in very small gradations. The CUT 32 automatically calculates the correct portion density and cuts the cheese bars into portions of the preselected weight. Compared to conventional solutions, this boosts yield values by around 20 per cent to almost 100 per cent, reducing the give-away to almost zero.
Fully-automatic film debagging and wrapping
Our FAP film debagging machine also guarantees maximum precision and efficiency. It processes blocks of cheese up to 550 x 350 x 150 millimetres in size at close to record-breaking speed: the FAP can unwrap up to eight blocks of cheese per minute, fully automatically. Thanks to its special film blade, it can even handle strongly folded shrunk films. The FAP can be integrated in one production line with slicers, portioning machines or block cutting systems – ensuring seamless further processing.
At the end of the production line, the MultiSAN fold wrapping unit ensures that the portioned cheeses are packaged with a maximum of flexibility and speed. It processes cheeses of all shapes, sizes and consistencies. The packaging material can be defined individually for each type of cheese. An ultra-modern touch panel guarantees optimum control throughout the packaging process and easy, operator friendly handling. The MultiSAN is an intelligent machine, displaying, for example, which formats need to be changed when switching to a different type of cheese.
Mini-Bassine for sensitive curds
ALPMA will be presenting its new Mini-Bassine System for particularly sensitive cheese curd for the first time at the Interpack. The curd of cheeses on the basis of very sensitive coagulum cannot be transferred to the mould using conventional portioning systems. The Mini-Bassine System with its intelligent cutting tool allows the cutting of precise curd portions and gentle and loss-free filling of the cheese moulds. This is achieved by turning Mini-Bassine, divider and mould by 180 degrees as one unit.
Mini-Bassines are available in sizes of up to 200 litres and, like the traditional ALPMA Bassine system, they can be automated. Versatile mechanisation options allow optimum exploitation of installation space, which is particularly advantageous in small plants. A fully automated solution has an output of 5,000 to 20,000 litres per hour. With this addition to its range of curd preparation equipment, ALPMA can now meet virtually all requirements of soft-cheese production.
CreamoProt for low-fat foods
Visitors to the Interpack can look forward to a special treat at the CreamoProt Bar, where they will be able to sample products made with the ALPMA CreamoProt technique. CreamoProt was especially developed to utilise liquid whey, boosting the yield in cheese production. The CreamoProt process yields low-fat products which have a creamy consistency equalling that of conventional (high-fat) foods.
website:  ww.alpma.de