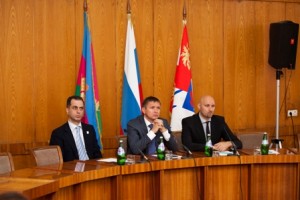 HORGEN, SWITZERLAND – August 14, 2012 – The Dow Chemical Company (NYSE: DOW), an  official Worldwide Olympic Partner, showcased an array of its innovative solutions at Sochi Park during  the London 2012 Olympic Games.
The entryway and Dow "Experiential Area" at the high-tech winter wonderland of Sochi Park were lined  and backed with approximately 400 square meters of recyclable carpet tiles made with elastomers from Dow.
Partly thanks to using Dow's latest elastomer technology in the backing, carpet manufacturer,  Desso, became one of the first carpet tile manufacturers to achieve "Cradle to Cradle®" Silver  Certification – a third-party designation given to products that are designed to be disassembled and made  of positively defined1 materials that can be recycled when taken back.
"We are pleased to have played an important role in the development of a fully recyclable carpet tile backing," says Enrique Torres, Flooring Marketing Manager for Dow Elastomers.
"At Dow, we develop  new products and offer innovative solutions that help our customers and the industry to address major  challenges such as sustainability, and we're proud to have had this solution on display at the largest sporting event in the world."
At the conclusion of the London 2012 Olympic Games, the yarn and other fibers can be separated from the carpet backing, creating an opportunity for the tiles to be recycled into new products or used in other  recycling enterprises.
"We introduced our new carpet tile backing in 2010. It was a challenging task, from  of view, but one we're proud to have accomplished in part by using the polyolefin elastomers from Dow,"  says Dr. Pierre van Trimpont, COO of Desso
innovative solutions at the beginning of the value chain helps us reach our goals in going beyond  sustainability." Elastomer products from Dow are an
benefits such as durability, recyclability