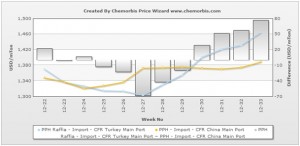 Turkey's PP market lost its traditional premium over China in early June and mostly traded at a discount for one and a half months, as per the pricing service of ChemOrbis. In line with the upward trend that took effect in early July in the Turkish market, import PP prices pared some of the earlier losses in the first half of July. Since then, the premium that Turkey's PP market carries over China has been steadily growing larger.
In China, the PP market has been following a firm trend since early July. Higher upstream costs as well as the ongoing supply limitations are the main justification for the firming trend, as per ChemOrbis. The sentiment has improved further recently, now that crude oil has been trading above the $90/barrel threshold since the beginning of August, pushing some PP buyers to replenish stocks.
When looking at the Turkish market, the import PP market has been moving higher in line with the global upward trend. Even though demand is described as muted owing to the recent Ramadan lull and the upcoming holiday that is to be celebrated at the end of this week, import PP raffia prices have gained $43/ton on average in the past fifteen days of August, according to ChemOrbis Price Index. Going back further in time, the size of the gains is much larger at $161/ton on average when compared to early July, when the PP market hit the bottom.
Now, import PP raffia prices in Turkey are standing $76/ton above the import homo PP offers to China on average, as per ChemOrbis. Under balanced market conditions, Turkey is traditionally expected to trade approximately $100/ton above China. This premium is accounted for by higher freight rates to Turkey as well as its relatively smaller market size.