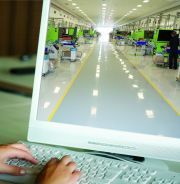 With ENGEL e-factory 2, ENGEL sets new standards in production data acquisition. Thanks to the enhanced set of features, the new release of ENGEL's MES solution can be connected directly to ERP systems such as SAP – even injection molding machines of different brands can now be integrated. This results in higher productivity and efficiency in the injection molding production.
Manufacturing Execution Systems – MES for short – make operations more transparent. Production figures can be observed conveniently in real time from the desk in order to counteract deviations immediately. At present, the ENGEL e-factory 2 includes these modules:
– e-factory Monitor – provides an overview of the current status information such as production progress, downtime causes and machine alarms. The plant layout and the production recorder are clearly shown next to each other. The system warns automatically of any deviations from the defined limits.
– e-factory Mobile – provides essential status information, focused and optimized for mobile devices. This information is readily available at any location over the Internet.
– e-factory Data – the central management of the parts data set, provides a fast and secure setting-up. The data sets are transferred online to the machines and the applied settings can be fully controlled, thus ensuring continuous quality. All machine settings can be displayed both online and offline, and all changes are documented.
– e-factory Chart – consistently documents all process data for the statistical evaluation. At the same time, it helps the plastic manufacturers to meet the documentation requirements with respect to their customers.
– e-factory Reports – automatically generates statistics as to shifts, orders and long term observation, letting the management make informed decisions whenever necessary.
ENGEL continues to enhance its MES solution, and additional functionality is being prepared. Further modules – such as the detailed order planning and maintenance management of machines and molds – will soon complement the newly released ENGEL e-factory 2.