The leading Taiwanese memory connector manufacturer LOTES Co., Ltd. has selected DSM's Stanyl® ForTii™ H11 polyamide 4T for housings for a new range of connectors for the next generation of computer memories, known as DDR4. These connectors will meet OEM design needs in a range of devices, including servers, desktops, and voice gateways.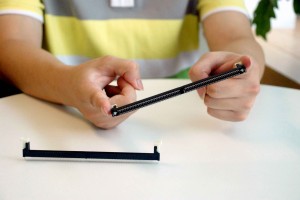 For its new range of DDR4 connectors, LOTES chose Stanyl ForTii ahead of liquid crystal polymers (LCPs) and polyphthalamides (PPAs), which it also tested for the application. The long form factor of the connectors, and the multi-cavity design of the injection mold LOTES wanted to use, demanded a high flowing material. No halogen-free PPA can match the flow levels of Stanyl ForTii.
To achieve good co-planarity of the connector on the printed circuit board (PCB), there also had to be a close match in CLTE (coefficient of linear thermal expansion) between the PCB material and the connector housing material; Stanyl ForTii provides this. In addition, it has a unique combination of high stiffness and high deflection temperature under load (HDT). As a result, warpage of Stanyl ForTii connectors after reflow soldering to PCBs is better than any LCP or PPA.
Bill Lee, director of Product Design at LOTES, says: "Among the outstanding properties of Stanyl ForTii that we value are its very low warpage after the reflow process, its outstanding toughness and stiffness, excellent pin retention forces and the freedom it gives us to make components in different colors for our customers. Stanyl ForTii H11 is also our material of choice for other SMT (surface-mount technology) connectors, PCI (peripheral component interconnect) or USB."
Stanyl ForTii gives customers the opportunity to re-consider their designs without any material-driven compromises. DSM is seeing strong and growing demand for Stanyl ForTii from the electronics market, which is one reason why DSM recently inaugurated an additional capacity expansion so soon after its earlier quadrupling of capacity. Stanyl ForTiii offers a true solution to meet challenging application requirements. It is highly flame retardant while being entirely halogen and red-phosphorous free, and has a very low carbon footprint."
With Stanyl ForTii's UL 94 V-0 rating down to 0.2mm, DSM can extend todays' coverage of Stanyl into the most demanding reflow soldering applications. Stanyl ForTii is the only halogen free, high temperature polyamide that meets customers' stringent requirements of reflow soldering and also in their demand for high flow.
More information can be found at www.dsm.com