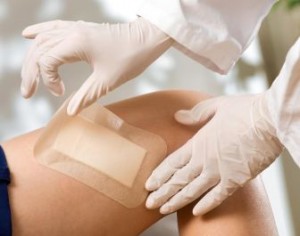 At the recently concluded Medtec Europe, Bayer MaterialScience introduced a series of polyurethane solutions and thermoplastic materials for applications in medical industry ranging from operating room equipment to wound treatment.
One example was Bayblend M850XF, a blend of polycarbonate and acrylonitrile-butadiene-styrene that Bayer MaterialScience says has good impact strength and rigidity. It is suitable for the production of surgical instruments, diagnostic equipment and drug administration systems. The material also fulfills requirements of certain biocompatibility tests according to ISO 10933-1 and the US Pharmacopeia (USP) Plastics Class VI.
Bayer MaterialScience has also developed materials for wound management. Its Baymedix brand hydrophilic prepolymers are used to manufacture PU foams for medical wound dressings, which according to the company, absorb aqueous liquids and retain them better than conventional foams.
Baymedix can be combined with Platilon thermoplastic PU films which are water vapor permeable and allow wounds to breath, according to Bayer MaterialScience. The water-tight films can keep liquids and dirt that come in contact with the bandage from the outside away from the wound. The films are produced by Epurex Films GmbH & Co KG, a wholly owned subsidiary of Bayer MaterialScience assigned to functional films.
Medtec Europe 2012 was held in Stuttgart, Germany from March 13-15.
Source : www.adsalecprj.com