ALPHARETTA, Ga., August 20, 2013 – A new version of the Digimat-MX simulation software from e-Xstream engineering in Belgium features two ultra high-performance polymers from Solvay Specialty Polymers. The new material additions — AvaSpire® AV-651 GF30 polyaryletherketone (PAEK) and KetaSpire® KT-880 GF30 polyetheretherketone (PEEK) from Solvay — are part of the first PEEK and PAEK materials to appear in the composite materials database, which provides computer modeling of fiber-reinforced thermoplastic parts.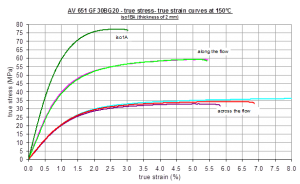 "Solvay is a long-term customer and technology partner of e-Xstream and today we are pleased to propose the addition of Solvay high-performance materials to Digimat," said Roger Assaker, CEO of e-Xstream engineering and Chief Material Strategist for MSC Software.
Until now, Solvay utilized the Digimat–MX computer simulation system internally and performed computer modeling for fiber-reinforced applications as a service to its customers. Now, current and potential customers have the capability to perform computer simulations based on Solvay materials on their own. "Inclusion of our materials in the Digimat-MX system is important because it raises the visibility of our materials and offers greater access to potential users," explained Laurent Hazard, technical marketing manager for Solvay Specialty Polymers.
Digimat-MX, the Material eXchange system, is a composite materials database that offers access to experimental data at different strain rates, temperatures, and other key property measurements. Plastics engineers use Digimat, the non-linear multi-scale material and structure modeling platform, to model thermoplastics and thermosets reinforced with short, long, or continuous glass and/or carbon fibers and any type of micro or nano fillers (glass beads, talc, etc.).
The development of new composite products using high-performance short fiber-reinforced polymers poses new challenges that differ from the standard design of metal parts due to the primordial effect of fiber orientation on material properties, according to Solvay. The company's AvaSpire® PAEK and KetaSpire® PEEK products are ultra high-performance polymers with outstanding strength, stiffness, and dimensional stability at very high temperatures and in harsh environments, low coefficient of friction and high wear resistance, along with exceptional chemical resistance.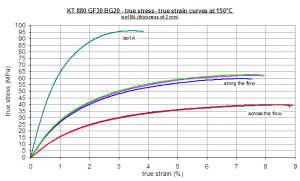 To fully exploit the key properties of these high-temperature materials in product design, Solvay has developed dedicated CAE procedures based on Digimat that have undergone thorough internal validation at its European laboratory, based in Brussels. Solvay provides elasto-plastic properties for temperatures up to 170°C (338°F) in the Digimat-MX database.
Coupled with major non-linear structural FEA software such as Marc, Abaqus, or Ansys, Digimat allows the validation of virtual designs through CAE, taking into account the essential fiber orientation information provided by an injection molding simulation software such as Autodesk Moldflow, Moldex3D, or Sigmasoft. Both materials' physical properties (rheology, thermal properties, PVT) are available within the databases of most software.
The AvaSpire® grade is a 30% glass fiber-reinforced PAEK that has been specifically formulated to provide higher stiffness than PEEK from 150°C to 190°C (302°F to 374°F); improved ductility and toughness; excellent resistance to chemicals, hot water, and steam; UL94 V-0 rating at 0.8 mm; and excellent aesthetics and colorability. These properties make it suitable for applications in healthcare, transportation, electronics, chemical processing, and other industrial uses.
The KetaSpire® grade is a high-flow, 30% glass fiber-reinforced PEEK material, offering high strength and stiffness, continuous use to 240°C (464°F), exceptional chemical resistance, excellent wear and abrasion resistance, and best-in class fatigue resistance. Typical applications include aircraft mechanical components, transmission and powertrain seals, thrust washers, bushings, and medical devices, as well as automotive and electrical/electronics components.
Other Solvay high-performance polymers, including Ixef® polyarylamide (PARA) compounds, are expected to be added to the e-Xstream Digimat-MX system in the future.