PS buyers in Asia are moving to the sidelines, hoping to see some price relief now that spot styrene prices have retreated from the record high levels seen in late July, according to ChemOrbis. PS buyers complain that persistently high raw material costs have eroded their margins, while sellers comment that they have had no choice but to raise their prices in the face of persistently strong styrene feedstock costs.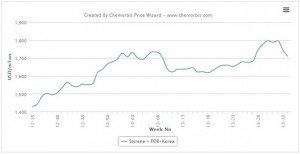 Spot styrene prices on an FOB Korea basis have stepped back over the past two weeks after hitting record high levels towards the end of July and the beginning of August. According to data from ChemOrbis Price Wizard, average spot prices have come down by $85-90/ton over the past two weeks after hitting a record high in the first full week of August. Even after this most recent retreat in prices, styrene prices have increased nearly $280/ton when compared with the same period of 2012.
Spot prices for PS have also been moving higher and import GPPS prices have risen by an average of $356/ton compared with the same period of 2012, according to data from ChemOrbis Price Index. This spike in prices has left buyers complaining of unsatisfactory margins as converters say that they are struggling to pass their rising raw material costs onto their end product prices. A toy manufacturer based in Shantou said that they are hesitant to purchase now as they are unsatisfied with their end products orders.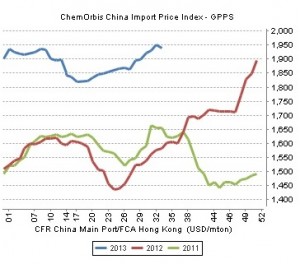 "We do not believe that additional price increases will prove workable in the current economic environment," the converter reported. A buyer manufacturing cast film commented, "We are purchasing only when we receive orders from our customers. We are avoiding building stocks as we think that sellers will agree to some price reductions in the coming weeks."
A trader said that they received an offer for Taiwanese GPPS with a $10/ton decrease, commenting that they did not accept their supplier's price, according to ChemOrbis. "We are tracking developments in feedstock markets to get a clearer idea of the market direction," the trader said. A source at a South Korean producer reported that their sale prices for HIPS were unchanged last week, although the source added that they believe that prices will come under downward pressure this week as trading activity is sluggish and local PS prices have already started to move down.