Royal DSM, the global Life Sciences and Material Sciences company, announces a breakthrough for the use of Stanyl ForTii, its high performance polyamide 4T, in three-dimensional molded interconnect devices, 3D-MIDs in the field of data security in banking. The robust plating performance of Stanyl ForTii combined with its high strength & stiffness at elevated temperatures, give designers the freedom to condense their designs.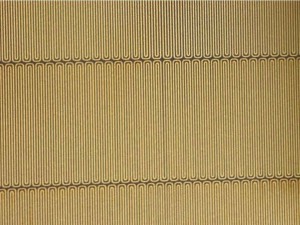 The devices, which combine mechanical and electronic functionality in a single, highly compact component, are produced by Cicor, a specialist in electronics systems and components headquartered in Boudry, Switzerland and Cicor's 3D-MID Technology center in Boudry focuses on development and customer-specific applications for 3D-MID products. The parts are then made by strategically located companies in its global network. Cicor has capability for all the process steps in 3D-MID production, from injection molding, through direct laser structuring and metallization, through to final assembly.
This particular application concerns a high-security enclosure designed to protect sensitive data against unauthorised access. Cicor's 3D-MID solution delivers enhanced protection compared to conventional PCB solutions and meets the latest PCI PTS POI V3 standard (Payment Card Industry/PIN Transaction Security/Point of Interaction Version 3).
Cicor has chosen a Stanyl ForTii LDS grade for this application in the field of security/data protection. DSM's Stanyl ForTii provides the mechanical and functional properties needed for this high-demanding device.
"Stanyl ForTii has excellent high temperature performance," says Rui Zhang, application development specialist at DSM, "This, combined with its robust plating performance, provides Cicor's designers with the freedom they need to make parts that are compact, highly functional, and suitable for large varieties of assembly and use environments."
"As a key technology of 3D-MIDs, LDS will take significant share in this market, and DSM now has in Stanyl ForTii an excellent material for the application," says Barbara Garcia, business development manager DSM, "Our partnership with Cicor, one of the leaders in the market, will help to speed up time to market of new applications."
According to Mr. Nouhad Bachnak, Director 3D-MID Technology at Cicor, "DSM and Cicor share the same vision in this market and the two companies work together in a highly dynamic way. This allows us, as true partners, to make an impact in this fast moving market." At K2013 DSM will showcase this story with Cicor on its booth. DSM will highlight its bright science solutions at booth 11 in Hall 6.
More information in Stanyl ForTii LDS dedicated site www.dsm.com