Unidirectional Celstran® CFR-TP continuous fibre reinforced thermoplastic tapes supplied by Ticona have been used to manufacture the Pulka sleds being used in the Arctic expedition Mission Icefox.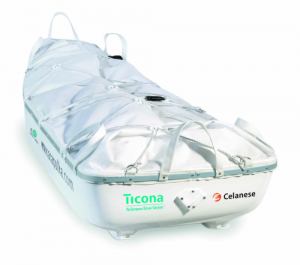 Mission Icefox, scheduled to take 23 days, is an expedition to the northernmost point of the Norwegian island of Spitsbergen being undertaken by extreme athletes Mike Fuchs, a photographer, and Eric Folz, an engineer at Ticona. The men will ski 560 km from Longyearbyen to Verlegenhuken at the northernmost point on Spitsbergen and back, pulling the sleds carrying their equipment behind them. The sleds required low weight, high stiffness and strength as well as optimum impact strength at very low temperatures down to -40°C. They must also glide well at all temperatures and on different forms of snow and ice.
The Pulka sleds are a manufactured in cooperation between sled supplier Acapulka and composites manufacturer Stükerjürgen. The shell of the sled was made from unidirectional Celstran CFR-TP glass fibre thermoplastic tapes. It is 170 cm long and 63 cm wide. The load volume under the cover is 600 litre. The sled weighs 5.2 kg unpacked. Folz and Fuchs have just started their expedition and are posting their experiences in their Mission Icefox blog.
Celstran
Ticona is supporting Mission Icefox with the objective of demonstrating the superior properties of Celstran CFR-TP continuous fibre reinforced thermoplastic UD tapes for the production of extremely lightweight and resilient structural components.
Celstran CFR is said to be ideally suited for highly stressed components, like the Arctic expedition sled. During the manufacturing process, each fibre is sheathed with a thermoplastic matrix. The homogeneously distributed fibres form an internal glass fibre 'skeleton' that gives Celstran a high impact resistance, strength and stiffness, and excellent stability over a broad range of temperatures and climatic conditions.
Source: http://www.reinforcedplastics.com/view/31567/celstran-thermoplastic-composite-tapes-tested-in-arctic-sled/