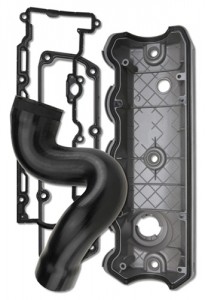 In order to meet an increasing global demand for acrylic elastomers, Zeon Chemicals L.P. plans to expand the production capacity of HyTemp ACM polyacrylate elastomers by 50% at its Louisville, KY manufacturing facility. The extra capacity will be in place by July 2013."The push for higher fuel efficiency has led to the design of more compact vehicles and the prevalent use of turbochargers to produce more horsepower from smaller engines," said Eric Saunders, business manager for the HyTemp product line.
"These design elements, and the presence of more aggressive engine fluids, have led to the exposure to increased temperatures and the need for more fluid-resistant materials for engine components. Our expanded production is a direct response to meeting the increasing demand for high-performance, heat- and oil-resistant elastomers for use in extreme conditions in under-the-hood environments."
HyTemp ACM heat- and oil-resistant elastomers are used primarily in automotive seals, gaskets, and hoses. These polyacrylate elastomers perform throughout a broad range of temperatures (-40°C to >175°C continuous; >200°C short-term) and demonstrate excellent resistance to a wide variety of fluids including new semi- and fully synthetic engine oils, transmission fluids, and diesel/bio-diesel fuels. HyTemp ACM also offers resistance to ultraviolet (UV) radiation, low noise/vibration transmission, and has inherent ozone resistance.
Source: http://www.plasticstoday.com/articles/high-temperature-polyacrylate-elastomers-help-higher-fuel-efficiency-japan-zeon-rubber-20130206a