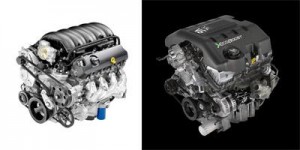 Two of the world's biggest automakers are squaring off for a multi-year truck engine battle, with one company trying to win by addition, while the other aims for victory by subtraction.In one corner, Ford Motor Co. is using turbochargers to boost its V6. In the other, General Motors (GM) is deactivating cylinders on its V8s. Both companies want the same outcome — power plus fuel efficiency.
But the two are going about it in dramatically different ways. "No doubt about it, it's a face-off between them," David Cole, chairman emeritus for the Center for Automotive Research (CAR), told Design News. "Both of them have put a lot of emphasis on their decisions." Indeed, GM has thrown down the gauntlet with the recent rollout of a family of so-called "small block" engines, which includes a 5.3L V8 and a 6.2L V8, as well as a 4.3L V6.
The engines offer direct injection, continuously variable valve timing and, most importantly, cylinder deactivation. The EcoTec3 engines are important to GM because they give the giant automaker a clear path to fuel efficiency by combining the fifth-generation of the company's "small block" technology with the ability to shut down cylinders when they're not needed. It's a big step forward for truck engines in the era of CAFE mandates because it enables an eight-cylinder engine to behave like a smaller unit when the power's not needed.
"In effect, it operates like a four-cylinder engine at light load," Cole told us. "The throttle is fairly open, so they reduce the throttling losses, which is one of the key thermodynamic losses for any engine at light load." By employing the old "small block" concept, which was originated by GM in 1955, the company hopes to benefit through mechanical simplicity and experience. The engines will be used on the 2014 Silverado 1500 and the GMC Sierra 1500, where GM engineers want to appeal to customers who want to get a half-million miles out of their powertrains. "It's an engine we know well," Tom Wilkinson, spokesman for Chevrolet trucks and SUVs, told Design News. "And it's a technology we know will hold up over the long haul."
Ford, meanwhile, is taking a bottom-up approach with its V6, twin-turbo EcoBoost engine. The 3.5L engine, which has already had significant success, uses its exhaust to spin turbine wheels that create a more dense mix of air and fuel in each cylinder. Ford says the engine offers best-in-class 4×2 fuel economy (16/22 mpg), torque (420 at 2,500 rpm), maximum payload, and maximum towing capacity. In essence, the idea is for the engine to behave like a V6 until the power is really needed. "We say, 'Deactivate those extra cylinders all the time,' " Chris Terry, Ford spokesman, told us. "Don't use them in the first place."
Ford told Design news that the V6 concept has been received enthusiastically by truck buyers, despite initial claims by some that truck consumers wouldn't accept anything smaller than a V8. "They love our V6 engines," Mike Levine, truck communications manager for Ford, told us. "If you want proof, look at our F-150 sales last year. Fifty-three percent of them were sold with V6 engines." In November, the company reached production of 500,000 EcoBoost-equipped vehicles.
Right now, there's no way to fairly compare Ford's and GM's approaches. GM is still awaiting fuel efficiency numbers from the Environmental Protection Agency (EPA), and is saying little until those numbers become available. The only statement made by the giant automaker was at the recent Detroit Auto Show introduction of the 2014 Chevrolet Corvette, which will use the 6.2L V8. There, Chevrolet said the engine will deliver 450 HP and 450 lb-ft of torque.
"Both approaches are quite valid," Cole told us. "So it's going to be interesting to see how they'll stack up in terms of performance, cost, and efficiency. This is really going to be a mega-technical issue."
Source: http://www.designnews.com/document.asp?doc_id=258596&itc=dn_analysis_element&