SPELLINC, an initiative by India's leading pen manufacturers, Linc Pen and Plastics Ltd, hosted its regional finale here on Monday. SPELLINC is a nationwide inter-school spelling competition that tests spelling and vocabulary of students from class 7 to 9.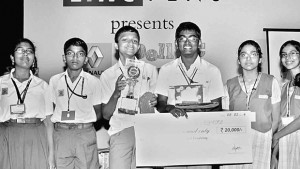 The 6th edition saw the participation of over 300 students from around 150 schools, including Padma Seshadri Bala Bhavan, Chettinad Harishree Vidyalayam, St Michael's Academy, DAV Public School and Bhavans Rajaji Vidya Ashram. The words thrown at participants in various rounds are normally used in regular conversation.
Finally, it was a huge win for Manojit Jacob and Sherwin S Rodriguez from Don Bosco School, followed closely by Malavika M and Shivangi S from PSBB Nungambakkam as first runners up and D Melanie Magdalene and E Vikram from Army Public school as the second runners-up.
Deepak Jalan, managing director, Linc Pen and Plastics Ltd, said SPELLINC was a one of its kind event, where so many schools participate on one platform and the students get an opportunity to put their knowledge and skills to test.The competition was held across eight cities – Kolkata, Delhi, Mumbai, Chennai, Bangalore, Ahmedabad, Ranchi and Jamshedpur, with over five lakh students participating in it.
The grand finale would be held in Kolkata, where the top winners from all eight cities would participate, he added. The rounds included anagrams, word-making, rapid fire, crosswords, besides regular spelling test rounds.