Regional plastics consumption is projected to see a massive surge as preparations pick up pace for two premier international events in the GCC.The World Expo 2020 in Dubai and the Fifa World Cup 2022 in Qatar are set to provide considerable momentum to regional plastics players, who are expecting demand to swell in the run up to these events.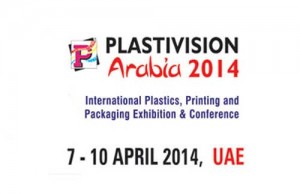 Dubai is set to spend more than $18 billion for the World Expo 2020, while Qatar has earmarked a staggering $200 billion for the Fifa World Cup, which could propel plastics usage much over a conservative estimate of nearly six metric tonnes.
Speaking ahead of the upcoming Plastivision Arabia 2014 trade fair, Saif Mohammed Al Midfa, CEO of Expo Centre Sharjah, said: "These mega events are going to have tremendous impact on the region's plastics producers given that plastic products are heavily used in infrastructure projects, apart from packaging."
"Apart from infrastructure projects, millions are going to fly into the region, providing a strong boost to plastics consumption," he said.
The second edition of the biennial Plastivision Arabia will be held from April 7 to 10 at Expo Centre Sharjah in association with the All India Plastics Manufacturers' Association (AIPMA), an apex body of the plastics industry in India.Plastic Coversion (PlastiCon 2014) will also be held alongside Plastivision Arabia, in association with Gulf Petrochemicals and Chemicals Association (GPCA).
Dr Abdulwahab Al-Sadoun, secretary general of GPCA, said: "Titled 'Exploring Growth Through Innovation in the Plastic Conversion Industry,' PlastiCon 2014 will focus on the role of innovation in developing new plastic products and opening up new markets in plastic conversion."
Other exhibitions to be held alongside Plastivision Arabia will include Print Pack Arabia, which will features the latest printing and packaging technology, materials and machinery; and the second Arabia Mold, a leading fair for mold-making and tooling, design and application development