Middle Eastern producers have started to reveal their February PP and PE offers or sell ideas in many major markets as per the pricing service of ChemOrbis. Global players are closely watching the impacts of the looming holiday in China, where market conditions are considerably slow, contributed to by falling monomer costs. Hence, Middle Eastern suppliers have approached the Chinese market with rollover requests for February PP and PE offers after six months of a steadily rising trend until January of this year.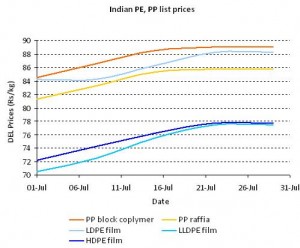 A source from a Saudi producer's Shanghai agent said, "We are holding our PP and PE offers stable this week to China. However, thin demand and stalled activity may push us to concede to some discounts ahead of the holidays as we are seeing stiff resistance." A trader who was offered Saudi Arabian raffia this week said, "We believe that import trade will not see any real pick-up after the holidays as import prices are facing strong competition from lower-priced domestic cargoes while the demand outlook remains unclear."
A major Middle Eastern producer offering LDPE and LLDPE also reported rolling over their February offers to China late last week, although they received at least $30/ton lower bids. "We don't want to concede to lower prices just yet," a company source said.
In the Southeast Asian market, a major Saudi PP producer is also asking for steady levels for February. "Even though some February offers are announced higher, we don't think the sellers will be able to achieve those levels since demand is not supportive. Plus, upstream costs have recently been on a softening trend," a company source informed.
When looking at the Middle Eastern markets, a Saudi producer revealed its PP and PE prices with increases of $10-20/ton to its domestic market. "Despite these slight increases, overall buying interest remains quiet as buyers first want to hear other producers' prices before making a move," a distributor reported in Saudi Arabia.
Players in Egypt also reported that a major Saudi producer started to seek around $20/ton increases for February in the PP and PE markets. However, these price hike attempts are not considered sustainable. "These initial offers will need to be subject to some downward revision. We assume that we will conclude deals at lower levels," said a few Egyptian players.
According to ChemOrbis, when looking at the Turkish market, a few Middle Eastern producers revealed their intention to roll over their February offers in the PP and PE markets. Some buyers also think that a major Saudi supplier may initially attempt price hikes before revising its prices to rollovers. "They will eventually feel pressure from the slowing market conditions in China as well as other retreating origins in the import PE and PP markets. Europe is not drawing a strong outlook for next month either," a large buyer commented.