New PS prices from European suppliers emerged with €100/ton decreases for December in line with rapidly decreasing benzene and styrene markets since early November. Buyers in the region expect larger drops to pass on PS deals citing €150/ton lower styrene contracts and weak activity prior to Christmas Holidays.
Benzene prices on CIF NWE basis hit the lowest levels since November 2011, according to ChemOrbis Price Wizard. Styrene costs on FOB NWE basis also sank to the lowest level since June 2010. Spot costs plunged around $300/ton for benzene and $400/ton for styrene monomer in the last one month driven by a cumulative fall of almost $15/barrel in Brent crude oil prices during the period.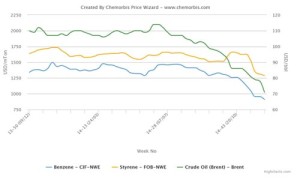 A West European producer lowered their GPPS and HIPS prices to Italy by €100/ton, saying that they needed to recover their margins as they produced the material in November when styrene prices were higher. "We maintained low styrene stocks in end November to produce the material as we expected reductions to pass in December. Hence, PS supplies may be relatively limited this month," a producer source commented.
A distributor reported issuing price reductions but buyers did not react to his initial offers. "Demand is extremely weak for December and buyers are in a waiting stance expecting further decreases. Meanwhile, our supplies for West and Central European cargos are comfortable," he reported.
Sellers admit that December is a shorter month in terms of trading activity due to upcoming holidays even if buyers maintained low stocks ahead of the expected decreases for this month. However, they still hope to see a slight improvement in demand owing to decreases, adding that some producers have reduced supplies in order to maintain their margins this month.
Converters expect to pay decreases between €120-140/ton citing the larger fall in styrene contracts. "We believe that we can obtain larger PS reductions than €100/ton from our suppliers. We will stop our production on December 18 for Christmas Holidays and therefore we need to close our negotiations quickly," a food packager stated. A container manufacturer expects prices to reach the entire monomer drop, especially on HIPS, considering that butadiene contracts also decreased €55/ton. He also thinks that the premium of HIPS over GPPS may fall to €60-70/ton.
Elsewhere, a food packager in Germany expects to close his deals €140-150/ton lower. "We will reduce our purchasing amount despite hefty drops since we will close our factory from December 23 to January 5 for maintenance," he reported. A second buyer claimed to have already paid a €150/ton decreases citing he has purchased at the high end of price ranges last month. A distributor in France reported keeping low stocks as his West European supplier was in no rush to sell given falling styrene prices while demand is slowing down ahead of Christmas.
In Turkey, new December prices for a West European origin emerged €80-90/ton below November. A trader offering on behalf of a producer said, "We received smaller decreases than the styrene drop from our supplier. They may have to apply the remaining part of the drop later," he said. He was not very optimistic about market activity given the ongoing bearish trend in energy markets.