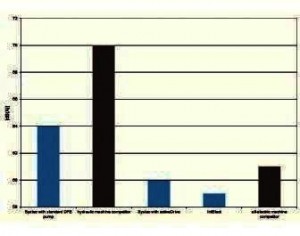 Sumitomo (SHI) Demag has developed new injection molding machines with a low noise level even in standard version. The company says sound pressure can be further reduced through targeted measures.
Noise emission of hydraulic injection molding machines can reach more than 70 dB (A). But Sumitomo (SHI) Demag's Systec series are equipped with electrically adjustable DFEE type control pumps and high efficiency drive motors. The noise level during operation of, for example, Systec 210, with 2,100kN closing force and 560mm bar width, reaches only 64 dB (A). It is said to be relatively low even in standard and is well below the industry standard of approx. 68 dB (A) sound pressure emission.
Hydraulic machines from Sumitomo (SHI) Demag generate even less noise when activeDrive drive concept is used. It reduces the sound pressure level of Systec 210 to 60 dB (A).
The innovative activeDrive drive concept from Sumitomo (SHI) Demag consists of a frequency-controlled high performance motor and a hydraulic pump. Dynamic power adjustment to all cycle-dependent requirements ensures optimal efficiency because there is only as much power as required in each cycle sequence. This results in energy savings of 30-60 % and a noticeable, about half as high noise level.
At the same time, all-electric machines generate much lower noise levels during operation. For example, sound pressure level of IntElect series from Sumitomo (SHI) Demag Plastics Machinery GmbH is only 59 dB (A).Sound pressure level of injection molding machines is determined according to DIN EN 201:2009 Appendix K to obtain comparable measured values.
Source: http://www.adsalecprj.com/Publicity/MarketNews/lang-eng/article-67004899/Article.aspx