SHANGHAI: China's domestic plastics machinery industry, which saw revenues rise 12 percent in 2013, is projected to slow its growth to about 5 percent this year. But judging from the recent Chinaplas show in Shanghai, that hasn't dented the global machinery industry's investment plans for China.
Both global and local firms unveiled capacity expansion plans at the Chinaplas fair, held April 23-26, targeting what they said were long-term opportunities in China, which is the world's largest producer of plastics machinery .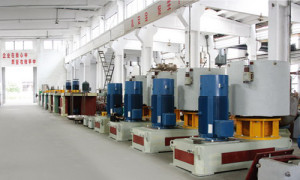 Some of the announcements: U.S.-based Milacron LLC said it was investing $4 million to double the size of its factory in Jiangyin. It's adding capacity for all-electric presses and to make machines that are more cost effective for Asian buyers.
Austria's Engel Holding GmbH, the world's largest injection machinery maker, took the wraps off a new factory in Changzhou to launch a new brand of mid-range standardized machines for Asian firms, broadening beyond its traditional focus on China's high-end segment.
Other prominent firms, including Sumitomo Demag Plastics Machinery GmbH and Nissei Plastic Industrial Co. Ltd., said at the show they're opening previously announced expansions in China.
Chinese firms are investing as well. Injection molding machine maker Tederic Machinery Co. Ltd. said it's planning a $50 million expansion and initial public offering next year.
For the foreign firms, there are two drivers: China is becoming a machinery export platform, reversing its traditional role as a net importer of equipment, but probably more importantly, the foreign companies are stepping up to meet local demand.
"The main focus for us and why we spent the major investment is the China market," said Gerold Schley, vice president of China operations for Milacron and managing director of its Ferromatik Milacron GmbH subsidiary in Malterdingen, Germany.
Domestic sales for Chinese-owned plastics machinery makers grew 12 percent in 2013, from 36.9 billion Chinese yuan ($6.0 billion) in 2012 to 41.6 billion yuan ($6.75 billion) last year, according to statistics from the Beijing-based China Plastics Machinery Industry Association, provided by Chinese injection molding machine maker Haitian International Holdings Ltd.
But 2014 will be more difficult. Growth is expected to be about 5 percent this year as the macro-economic picture worsens, said Borch Zhu, chairman of the Beijing-based CPMIA and president of injection molding machine maker Borch Machinery Co. Ltd. in Guangzhou.
He said small and medium-sized companies are under more financial pressure because of tighter credit. The widely watched HSBC Bank China manufacturing index in March reported the sharpest drop in output since late 2011, and April showed only modest improvement.
Publicly listed Haitian agreed 2014 looks more difficult. Attendance at this year's Chinaplas in Shanghai April 23-26 was up more than 14 percent to 130,000 people.
"Maybe I was more optimistic in 2013 than I am now in 2014," said Helmar Franz, Haitian's chief strategy officer, in an interview in late March. "I still think China is undergoing severe social and political changes."
Haitian is China's largest injection molding machine maker and reported in March that its 2013 domestic sales rose 19 percent. Like other local firms, it's also expanding, building two new factories in Ningbo.
It's a complex picture. On the positive side, broadly speaking, China's plastics industry is outperforming the overall economy.
Sales for Chinese plastics processors grew 14 percent in 2013, to 1.86 trillion yuan ($304.3 billion). Profits rose 16 percent to 112.3 billion yuan and volumes rose 8 percent, to 61.9 million metric tons, according to Haitian, citing statistics from the CPMIA. Some global firms expect local demand for plastics to keep rising.
European chemicals maker BASF AG said at Chinaplas it projects sales in Greater China to grow 11 percent a year through 2020, from 5.5 billion euros last year to 12 billion euros.
Greater China, which BASF defines as mainland China, Hong Kong and Taiwan, is the company's third-largest market after Germany and the United States.
Tederic said its plans and stock offering are being driven by growing use of plastic pipe and fittings in construction, and by the auto and packaging industries.
According to industry statistics, China's plastic pipe industry grew 10 percent in 2013, as the country's building boom prepares for an estimated 80 million new urban residents by 2020.
"As you know, the Chinese government is very focused on pipe infrastructure, drinking water and buildings," said Terry Zheng, chief executive of Tederic. "I think we have five years chance to get this market."