KENT, Ohio, February 14, 2014 – Reduction Engineering Scheer, a leading global manufacturer of strand pelletizing systems, has launched a new quick change cutting chamber for strand pelletizer machinery which delivers easy and quick removal of the cutting chamber with minimum downtime.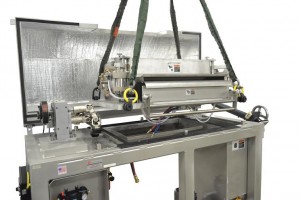 The patent-pending quick change cutting chamber is unique because it features a gearbox which positively drives the upper and lower feed rolls and helps to maintain machine performance and dependability. It is designed specifically for continuous polymerization systems that can't be shut down. The quick change chamber lowers downtime and reduces capital expense by eliminating the need to purchase entirely new pelletizing machinery, according to Tom Kernstock, product manager for Reduction Engineering Scheer.
"Our next-generation design was developed in response to customer demand and is differentiated in the market by our unique gearbox which ensures high performance and durability," explained Kernstock.
The quick change system features quick couplings which detach all connections between the stationary structure and the cutting chamber. Other key elements include universal joints which connect the gearbox to the cutter and feed rolls, along with a quick tension belt release. All connections to the air lines, the gearbox, and the belt are easily removed, resulting in just 15 minutes of downtime.
The new quick change cutting chamber is targeted for larger production strand pelletizers. It is commercially available and sold as an option.
About Reduction Engineering Scheer
Located in Kent, Ohio, Reduction Engineering Scheer is a worldwide supplier of pulverizers, pelletizers, and rotational molding equipment, and it also engineers and commissions turnkey production systems. Founded in 1994 as a builder of pulverizers for converting pellets to powders, the company began machining rotor knives for Conair pelletizers in 2000, took over assembly of the pelletizers in 2002, and purchased the line from Conair in 2006. In late 2008, the company also purchased the pelletizer business of C.F. Scheer & Cie GmbH, the world's largest manufacturer of strand pelletizers. The production of rotational molding equipment is carried out by a Brazilian affiliate, Rotoline Industrial Equipment Ltda., for which Reduction Engineering operates a sales and service center in Kent. More information is available by calling (330) 265-3242, e-mail [email protected], or visit www.reductionengineering.com