Leading returnable transit packaging (RTP) specialist, PHS Teacrate, will be showcasing its superb range of solutions for food distribution at this year's Foodex exhibition at the NEC in Birmingham.Part of the PHS Group, PHS Teacrate supplies food and drink producers across the UK, from family run businesses to the multiple retailers, with crates, trays and pallets for transporting food items such as fresh produce, bakery products, dairy, meat and poultry.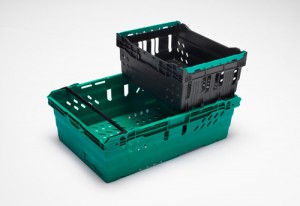 In addition to promoting the large range of RTP styles, PHS Teacrate's team will also be advising on the flexible rental agreements available, a particularly cost-effective solution for supplementing a core supply to ease the capital investment burden on food retailers by meeting the challenges of ad-hoc or seasonal demands and economic variations.The company offers RTP Pool Management services for renting plastic crates and trays, which can save on transport costs, storage space and capital outlay during peak periods, such as Christmas, or a recession when cash flow is tight. Adopting a mix of rented and purchased RTP gives businesses greater flexibility by optimising their supplies at critical times.
Visitors to stand G311 at Foodex will learn of the excellent support available for food companies renting from PHS Teacrate such as its renowned hygienic crate washing service, both before and post use, as well as the service for washing a customer's purchased crates.PHS Teacrate's Sales Director, Patrick Sheehy, said: "We are pleased to be returning to Foodex where we can highlight the best logistics solutions for food companies. In addition to promoting the various RTP we supply, we can explain the advantages for businesses of renting a supply of crates, including the flexibility to deal with planned and unplanned activity."
Manufactured from durable polypropylene, PHS Teacrate's crates, trays and pallets are specifically designed for multiple trips over an extended life. They provide a rapid return on investment at a minimal impact to the environment. PHS Teacrate's national fleet operates out of eight depots nationwide giving fast and reliable delivery of plastic crates and trays to anywhere in the country.
Its willingness to invest improves supply chain stability while a reputation for fast and reliable delivery, flexible rental terms and excellent customer service has put it at the forefront of the industry, helping to win contracts with big name brands.PHS Teacrate handles millions of plastic trays and crates every year in a variety of dimensions including lidded trays, patisserie trays, produce boxes, hygiene pallets and nestable bale arm crates that are compatible with retailers' existing trays.
Parent company PHS Group is one of the UK's leading workplace service providers. It has grown from a family run firm in 1963 to become a multi-divisional, multi-national company, servicing over 200,000 customers at over 450,000 locations. The Group employs more than 5,000 staff and has a wide network of over 140 regional service branches, strategically located throughout the UK.
If you cannot attend Foodex but would like to arrange an appointment with PHS Teacrate  to discuss your business requirements (no obligation) call Patrick Sheehy, Sales Director, on 0800 980 7000 or e-mail [email protected].