RAMPF showcases innovative engineering and chemical solutions for electronics industry at EP China 2014 from 18 to 20 March 2014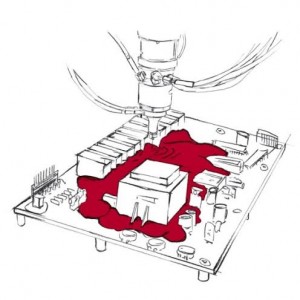 Grafenberg, 02/17/2014. The international RAMPF Group is presenting its high-quality range of resins and dispensing solutions for the electronics industry at the trade fair Electronica & Productronica China 2014 from March 18 to 20 in Shanghai.
When it says RAMPF, it is RAMPF. This is a fitting slogan for the foreign subsidiaries of the international RAMPF Group, which is based in Grafenberg, Germany. "The quality and production processes of our subsidiaries fully comply with German standards. This is how we ensure that wherever engineering and chemical solutions from RAMPF are produced and sold around the globe, the highest quality is guaranteed," says Michael Rampf, CEO of the RAMPF Group. This also applies to RAMPF (Taicang), the group's Chinese subsidiary, which will be representing RAMPF at this year's EP China in Shanghai.
RAMPF (Taicang) was founded in 2007 and produces electro casting resins and foam gaskets formulated by RAMPF Giessharze, as well as mineral cast machine beds from EPUCRET. The company has gained an excellent reputation on the Chinese market, and consequently the production capacity at the site in Taicang was recently expanded by approximately 1,000 metric tons of electro casting resins and foam gaskets. Taicang, a city with a population of approximately 470,000, is about 50 kilometers from the center of Shanghai. "It's perfect for reaching customers all over China," says Fabian Werner, Managing Director of RAMPF (Taicang).
Reliable insulation and embedding of electrical components
At EP 2014, which is taking place in the Shanghai New International Trade Fair Center, RAMPF (Taicang) will be presenting its all-encompassing and high-quality range of electro casting resins. Sensitive electronic components in cars, high-precision measuring, monitoring and regulating sensors, as well as numerous other electrical components are reliably and efficiently protected against chemical substances and environmental influences such as hot, cold, and wet conditions. Electro casting resins – developed by RAMPF Giessharze in Grafenberg, Germany, and produced on site by RAMPF (Taicang) – provide a wide range of mechanical, thermal, and chemical properties such as:
high thermal and mechanical strength

high flame retardancy (UL-listed)

manual or mechanical processing capabilities

precisely adapted flow properties, from low viscosity to highly thixotropic

settings precisely matched to process conditions

variable hardness
The new RTI range of electro casting resins with high thermal endurance will also be presented at EP China.Exposure to heat is one of the main elements that cause the degradation of resins. The behavior of a material that has undergone thermal aging is not the same as the performance of a material under normal service conditions.The newly developed RTI resins from RAMPF Giessharze have outstanding thermal endurance and thus maintain their attributes and functions even in extreme conditions.
Dispensing systems for thermally conductive materials
With over 2,500 system solutions on the market worldwide, RAMPF Dosiertechnik is one of the leading manufacturers of low-pressure mixing and dispensing systems. The innovative systems for processing single, dual, and multi-component reaction resin systems are also used in the electronics industry, where they ensure the highest level of process reliability when applying highly filled heat dissipation materials to electronic assemblies.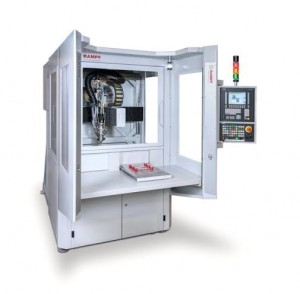 At this year's EP China, the low-pressure mixing and dispensing system DC-CNC 800 can be seen in action at the RAMPF stand. It is the number one choice for the 2D or 3D application of casting, sealing, and adhesive systems. It features an integrated material preparation system and has the option of being fitted with piston or gear pumps. Further advantages of the DC-CNC 800 include the CNC Siemens Sinumerik modular control system and integrated process control for continuous monitoring of pressure, fill level, and speed.
Standardized operating concepts for the sliding table, rotary index plate, and conveyor feed have also been integrated as have larger tanks, which facilitate the filling of small containers in one step. The tanks, which are mounted to a sliding mechanism that can be pulled out for easy maintenance, also improve the material preparation system, ensuring more material-friendly homogenization and faster degassing.
RAMPF Dosiertechnik will be represented at EP China by its Chinese partner Orient-RAMPF Dosiertechnik.
RAMPF Holding GmbH & Co. KG
Albstrasse 37
D-72661 Grafenberg
T +49.71 23.93 42-1045
F +49.71 23.93 42-2045
E [email protected]gruppe.de
www.rampf-gruppe.de