Packed program focuses on capturing higher margins and adding value in PET packaging
Including PET industry trends – from innovations in packaging and greener solutions to thermoform and recycling, the summit also presents an evaluation of global MEG demand supply balance by Kamlesh Parwani, Global Development Manager of MEGlobal International.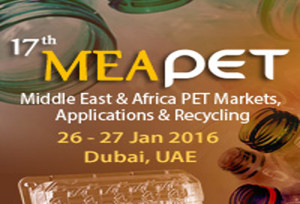 Regional country-specific sessions include:
• Iran's PET market opportunities post-sanctions by Mohammad Sadegh Rahimian, CEO of Red Tree Trading
• Kuwait's first PET recycling project – Omniya by Kuwait Packing Materials
• Saudi Arabia's juice & dairy market by Kaunain Shahidi, Senior Packaging Development Manager, Almarai Group
• Ivory Coast and West Africa's PET raw material challenges by Ivoirienne de Plastique
Other panelists include Mohamed Samir, Plant Manager of PET for Packaging Materials analyzing the use of thermoform sheets in GCC – across food, medical and industrial applications.
Presentations by Reliance, PCI, Euromonitor, Gneuss, GEA Procomac and Frigel complete the program.
For more information, click on the link to view:  http://www.cmtevents.com