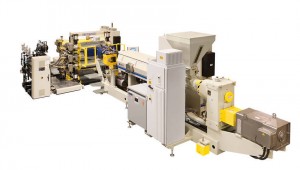 Processing Technologies International (PTi), a global manufacturer of high performance sheet extrusion machinery, has identified Southeast Asia and India as key growth markets for its machinery and named two representatives to serve there.
Kenda Technologies Pte Ltd, based in Singapore, will serve as a sales agent for PTi's broad range of sheet extrusion systems in Southeast Asia while Shruti International, based in Mumbai, India, will handle sales efforts in India. Both will sell PTi's broad range of monolayer and co-extrusion barrier sheet line systems for the packaging industry.
With PTi machinery in 24 countries, the appointments are a key part of the company's aggressive global growth strategy and expand its presence in those two critical growth markets, according to Christopher Curtin, Vice President of International Sales. "We're excited about joining forces with two of the region's leading machine sales representatives to help position us for future growth. Both these sales agents bring many years of valuable experience in their respective regions."
Shruti International, led by owner Bharat Muchhala, represents US and European manufacturers and sells machinery and support equipment to Indian packaging companies. Meanwhile, Kenda Technologies will sell PTi's broad range of extrusion equipment in Singapore, Indonesia, Thailand, Philippines, Malaysia, and Vietnam.