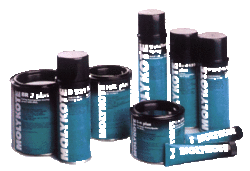 A Molykote specialty lubricant from Dow Corning is heading to the Antarctic on a record-breaking expedition during extreme polar winter temperatures. Molykote 55 O-Ring Grease was selected by "The Coldest Journey" expedition team members as they bid to complete the first-ever trans-Antarctic crossing during the polar winter.
The expedition team of five people will cover 2,000 miles, mostly in darkness, at temperatures as low as -89.9°C. In total, the team will spend an estimated six months, from March 31 through September 31 on the ice. "The Molykote brand offers a range of products that meet needs for severe-duty performance in harsh environments and across wide temperature ranges, and we were happy to be approached by The Coldest Journey based on a third-party endorsement of our products' performance," said Phil Grellier, Global Marketing Manager for Dow Corning Industrial Assembly and Maintenance Solutions.
"I spoke with Sir Ranulph about Molykote silicone greases and their many applications. We were honored by the opportunity to be a part of this historic expedition and happy that Molykote 55 O-Ring Grease will be making the journey with Sir Ranulph's team." Based on high performance silicone oil and a lithium-soap thickener, Dow Corning says Molykote 55 O-Ring Grease is known for good reliability and durability in extremely cold applications.
It is being relied upon to provide effective lubrication at the numbing-cold temperatures the team will experience. The specialty lubricant is expected to provide dynamic lubrication for mission-critical rubber-to-metal seals with outstanding elastomer compatibility, corrosion protection and high oxidation resistance. It slightly swells rubber O-rings to help ensure positive lubrication and sealing.