Shorter lead times and faster delivery are essential for success in any mouldmaking company. Staff at Industrial Molds consider Delcam's PowerMILL CAM system for high-speed machining to be critical to achieving the company's eight-week average lead times.
"PowerMILL reduces our lead times in a number of ways," explained Greg Osborn, account manager at Industrial Molds. "It delivers the machining accuracy we need to reduce the amount of hand finishing we do. It also has a number of features that reduce programming time, plus powerful functionality, such as arc fitting, that allows us to run our machines at top speeds, which reduces machining time."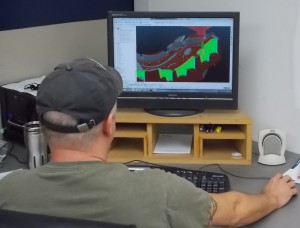 Industrial Molds Group, which is based in Rockford, Illinois, is a leading manufacturer of precision injection moulds and the 2012 winner of MoldMaking Technology's 2012 Leadtime Leader award. Established in 1968, Industrial Molds specialises in all facets of injection-mould manufacture including design, engineering, tooling and special machining services. The company's extensive investment in equipment, technology and employees has enabled it to reduce average lead times by half over the last five years.
The strategy consisted of buying the best equipment, deploying the best technology and hiring the best people. Deploying the best technology included a switch from previous CNC programming systems to PowerMILL.
"PowerMILL's roughing routines work very well, but that's only 20 per cent of the machining time in a typical project," explained Mark Hastings, High-Speed Machining Manager. "Then, we utilise its rest-roughing strategies for semi-finishing. Finally, PowerMILL offers a lot of features that help us get to the actual net shape, such as picking radii and corners, pencilling out details and flow-line machining."
PowerMILL provides control over machining tolerances. "The tighter the tolerance, the longer it takes to calculate the toolpath," said Mr. Hastings. "We can loosen tolerances up while we are roughing, which generates the toolpath quicker, then tighten them up for finishing. With this combination, we can achieve close tolerances without sacrificing speed."
"It's really the synergy of PowerMILL's tight tolerance toolpaths for finishing, along with the high-end Makino machines, good tooling, good holders and skilled operators that allows us to get our accuracy," added Mr. Osborn. "It's everything being at the same high level. An important benefit is that you know exactly where the steel is. As soon as you start hand working, you no longer match the CAD. With PowerMILL, we can get tighter shut-offs and there is no handwork."
Another factor is PowerMILL's open architecture, which allows Industrial Molds to create macros to automate repetitive tasks. For example, one macro performs multiple collision checks and multiple gouge checks with a single command. "I can select all my toolpaths, and gouge check and collision check on multiple toolpaths at one time," explained Mr. Hastings. "There's a lot of automation built into PowerMILL and we've added our own macros on top."
Another programming time saver is the ability to save projects and re-use the majority of their machining strategies when developing toolpaths for similar parts. "I save out generic projects and bring in a new CAD model with similar features. I can then batch-process the toolpaths over the new geometry," said Mr. Hastings. "There's hardly any editing needed to what PowerMILL gives me for the new part."
PowerMILL has also reduced machining time. "PowerMILL's arc-fitting strategies allow us to take advantage of high-speed, high-feed cutters," Mr. Osborn explained. "By smoothing out the transitions, PowerMILL allows for faster cutting while maintaining accuracy."
Because Industrial Molds serves customers in such a wide range of industries, the breadth of functionality in PowerMILL is another key advantage. "Every material we cut, from hardened steel to soft aluminium or graphite, we program differently," stated Mr. Osborn. "PowerMILL isn't limited to one type of machining; plus with PowerMILL, the user has so much control."