The Conair Group has released a new dual-spindle automatic cut-and-transfer coiler, Conair ATC, for high speed winding of small and flexible extrusions such as medical tubing, small tube, and small flexible profiles.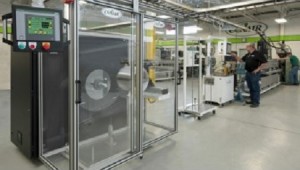 Nominal line speeds range as high as 243m/min, depending on size of the extrusion being coiled. Little or no friction or winding tension is generated, preventing deformities in delicate products, according to the machinery supplier. Fully automated transfer of winding to a new reel reduces manpower and eliminates process disruption, which effectively increases line speed and performance during changeover.
Conair ATC coilers are suitable for tensionless winding of small-diameter flexible tubing. Typical tube diameters are 2.16-12.7mm, while tubes as small as 0.5mm in diameter can be accommodated with a special minimal tension trim control. Units are available in three different sizes with maximum coil diameters of 61cm, 91cm and 122cm.
Servo-drive for turret rotation, traverse and spindle speed provides high repeatability in speed and positioning control. An advanced control algorithm that calculates each successive wrap diameter to adjust coil speed and traverse relative to the puller speed keeps the tension down. This allows the sonic-loop control to perform as fine-tuning device to ensure the error-free lay-on of each wrap, explains Conair.
The following circuit let the winder automatically ramps up to speed with the line during start-up. All operating parameters can be saved in a recipe for product and process consistency. This includes coil speed changes during cut and transfer.
Automatic turret changeover is completed when a set length of product has been coiled. The system comes complete with collapsible core assemblies or spools and can optionally accept customer-supplied spools. All winder components that come into contact with the extruded product are made from stainless steel or are hard-coat anodized.
"Speed is what sets the Conair ATC coiler apart," explains Chris Weinrich, General Manager, Downstream Extrusion, Conair. "No other coiler in its price range offers these speeds, along with automatic cut-and-transfer. In addition, it is part of a complete line of proven downstream extrusion equipment. From the die to the shipping container, Conair offers multiple choices for sizing, shaping, cooling, pulling, cutting and handling of extruded products from microbore medical tubing to large pipe and profiles. No other supplier can match our experience or breadth of product line."
Source:  www.adsalecprj.com/Publicity/MarketNews/lang-eng/article-67009515/Article.aspx