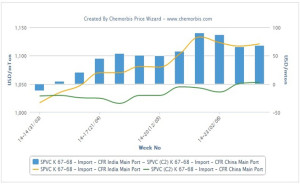 Several Chinese producers reported that they are increasing their allocations to the export market this week as they can achieve better netbacks on export deals than they can by selling in the local market as per ChemOrbis. Attractive prices for acetylene based PVC prices are said to be maintaining pressure on prices for ethylene based PVC in the country.
According to data from ChemOrbis Price Index, import PVC prices to India have been trading at a considerable premium relative to PVC prices in China for the past several weeks as India has seen healthier PVC demand relative to other Asian markets such as China and Southeast Asia. A trader based in India commented that they received an offer for Chinese acetylene based PVC which they found to be attractive in spite of the fact that the cargo is subject to an anti-dumping duty of $90/ton. However, players are becoming skeptical regarding the ability of the Indian market to absorb any further price hikes. "Demand is slowing down now that the monsoon season has begun and the new anti-dumping duties on PVC went into effect on June 13. We believe that prices do not have any further room to move higher as demand will be subdued for the next one to two months," the trader commented.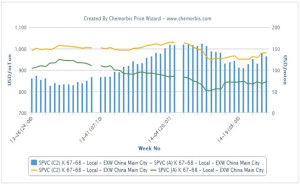 Inside China, players commented that attractive prices for acetylene based PVC continue to weigh down ethylene based PVC prices. According to data from ChemOrbis Prices Index, acetylene based PVC is currently trading at a discount of around $130/ton relative to ethylene based PVC, a level close to the highest level seen in the past year.
According to ChemOrbis, disappointing demand conditions in the local markets have pushed many producers to attempt to increase their export allocations. "We have decided to lift our export allocations as we are seeing better netbacks on sales to foreign countries. We are facing cost pressure and are therefore reluctant to agree to any discount on deals," a source at an ethylene based PVC producer stated. A distributor based in Shanghai stated, "Demand is not very encouraging, but we do not think that prices have any room to move down due to stronger upstream costs. Local availability is beginning to tighten as several producers have decided to divert more of their cargoes to the export market, where they can achieve higher sales prices." Another distributor added, "We are thinking of offering some acetylene based PVC for export to Southeast Asia as we are not feeling optimistic about the demand outlook for China."